VTC sees benefits of mobile mesh for off-grid tactical operations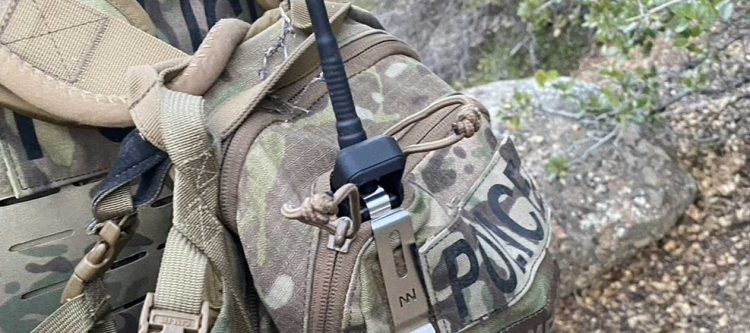 From urban landscapes to rugged terrains, American military, law enforcement and emergency response operations are often conducted in extremely varied, dynamic, and unpredictable environments. On any given workday, a first responder could be called upon to repel down the side of a skyscraper or extract an injured hiker from the wilderness.
Today's warfighters and first responders, alike, must always be ready to mobilize, communicate, and operate under any conditions they may encounter. To be fully prepared for these dynamic environments, they must first have the necessary tactical knowledge and skillset.
Ensuring they have that skillset is VTC, a risk-based training and consulting company that offers courses designed to meet the specialized, tactical training needs of today's warfighters and first responders. VTC's course catalog provides a wide array of tactical training taught by professionals with law enforcement, defense, fire, and rescue backgrounds.
The Last Mile had a chance to sit down with VTC's CEO, Dana Vilander, to discuss how tactical training advances preparedness and readiness in unpredictable environments, as well as how teams can maintain effective communication throughout off-grid operations.
The Last Mile (TLM): Can you tell our readers a little bit about VTC? What kinds of training classes do you offer, and what different kinds of organizations and individuals do you provide training for?
Dana Vilander: VTC was started exactly two years ago. I retired from the LA Sheriff's Department after 26 years on the SWAT team. Overall, I worked 32 years total in law enforcement, including working as a SWAT and rescue paramedic, and also as a recovery diver.
I had been globally teaching classes—ones VTC is teaching now—for a number of years. I eventually decided to leverage my decades of experience and start a company that would offer these training sessions to those that need them.
Our rescue and tactical training courses are hands-on, in-person courses. We offer tactical rope access, urban climbing, elevator shafts, and emergency escape from buildings. Recently, as of last summer, we started offering small team rural tactics. We utilize former Army SOCOM and their medics to do training for a variety of agencies.
Most recently, we started offering a wilderness skills course where we are taking people out and showing them land navigation and basic rope skills. That class is available to anyone that wants it, and it's so important right now – especially out here in California. It happens so frequently in this state – hikers getting lost and then tens of thousands of dollars are spent sending out search and rescue teams and helicopters to locate those people to bring them home safely.
TLM: We saw that your clients range from search and rescue teams to folks in the military. What are some of the most life-saving skills folks learn about during your training?
Dana Vilander: One of the most life-saving skills we teach are advancements in emergency medicine. Emergency medicine has advanced tremendously in the United States in the last 20-30 years.
With the wars in Iraq and Afghanistan, the medicine that was being performed on the battlefield had a translation into the EMS world in the United States. That took a while. It probably wasn't until around 2010 that tourniquets became accepted in the United States. Because people saw the data from the wars that showed tourniquets were safe for a certain period of time, two to four hours. I went through an EMT school in the late-1970s, and I can remember them saying, "You absolutely never put a tourniquet on."
And now, you have the Stop the Bleed program. It's a program supported by the American College of Surgeons (ACS). They're teaching things like tourniquets and wound packing to the average civilian. It's really a game changer, because the average citizen can be actioned to be the first responder, if they choose to get involved. Now these tools are getting out into the community.
Our training focuses on the same things that the tactical training program emphasizes, which is stopping a massive bleed first, checking the airway, making sure the airway is open and viable, checking the chest, respiration, checking for any and all wounds, and preventing hyperthermia. It's an acronym called MARCH. That's what we teach.
The other aspect that we do in our Tactical Rope Access Course (TRAC) is that if you're in a difficult spot in elevation or you're down somewhere, how do you use ropes to extract a casualty? In search and rescue, there is an acronym called LASSEE. Which means we are going to Locate them, and Access them, Secure and Stabilize them in the position they're in. Then we Extricate and Evaluate the casualty. That's a big part of the TRAC training program, knowing how to get a casualty out of a difficult place using improvised methods and medical equipment.
TLM: How has training changed in light of the pandemic? How has it stayed the same?
Dana Vilander: All the state agencies around the country limited and forbade in-person training. Our training can't be done virtually. We can't train a person to virtually repel off the side of a building. We can't virtually go out into the wild and experience things that we're teaching in person.
Right now, it's starting to come back. We're hoping that once the restrictions are lifted and we have the herd immunity and vaccines, we'll be more active.
TLM: Some of our readers may be surprised that organizations like the Marine Corps of the L.A. Police Department use an outside company like VTC to do its training. Why is a company like VTC better prepared and positioned to train these individuals than – say – more senior staff in those organizations, themselves?
Dana Vilander: I think the majority of these organizations already have own their subject matter experts (SME) in the various fields. However, our role is a little bit more specialized and we do things differently. In fact, we recently conducted a nationwide survey about some of the classes we are offering. There were very few similar offerings across the organizations that responded.
One of the key differentiators of what we do involves technology. We are constantly talking to the new and different technology vendors across the nation, looking for the latest in emergency response, communications and off-grid communications technologies and bringing that to our students.
The budgets for these organizations and their internal SMEs are pretty limited. We are enabling them to see what new technologies are out there and what other possibilities there are through the classes we are offering.
That being said, there is always value in an outside opinion. When I was working in law enforcement, I reached out to various private companies for training, and there was always a new technique or consideration that people didn't know about internally. It's worth talking to people outside of the organization – doing trainings with outside organizations – looking at those things and adapting what you can.
TLM: Some of your classes involve training in rural, mountainous and remote locations. What type of missions might take some of your customers and clients into these environments?
Dana Vilander: Any kind of search and rescue mission in the mountains, hills, and rural areas. A lot of people go missing in these off-grid environments – whether it's their fault or not. Local law enforcement and emergency responders need to know how to plan and need to be prepared with the physical skills to go out and recover those individuals.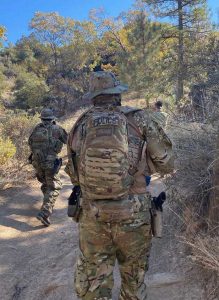 Another off-grid assignment that often falls to law enforcement is hunting fugitives or suspected armed criminals. That can happen in the mountains or desert, rather than in the city.
A lot of these skills that you use as a city policeman aren't applicable when you're out there on foot searching in the mountains or desert.
One of the teams we've trained has had their greatest success by using the tactics that our instructors gave them.
TLM: How does the remote nature of these locations impact communications? Are the traditional communications tools that clients rely on always available in these environments?
Dana Vilander: Most law enforcement and fire agencies, they'll be operating on a simplex or a repeater frequency. In the areas we are in, the range will be limited on the simplex version, which is easier to talk on. It has an instant voice capability when you hit the transmit button. On the repeater side, you have a delay, which can impact your ability to communicate.
You also have cell phones, which have a GPS, but if you can't access a tower you'll have a bad signal or no signal at all. In a wilderness survival course we did on Friday, we didn't have cell phone service all day in our location. The ability to provide a device that will still enable operators to communicate with each other and also show each other's locations is vital.
TLM: You recently conducted a test with mobile mesh networking solutions in the San Bernardino Mountains. What was your experience like with mobile mesh? Do you see mobile mesh being advantageous or useful for off-grid missions and exercises?
Dana Vilander: The introduction of mobile mesh network was huge. We were actually in a foothill region of San Bernardino. It was our first experience with it. Having the ability to create areas to search in real-time, being able to pass that along to different teams, and being able to track each other, was absolutely crucial.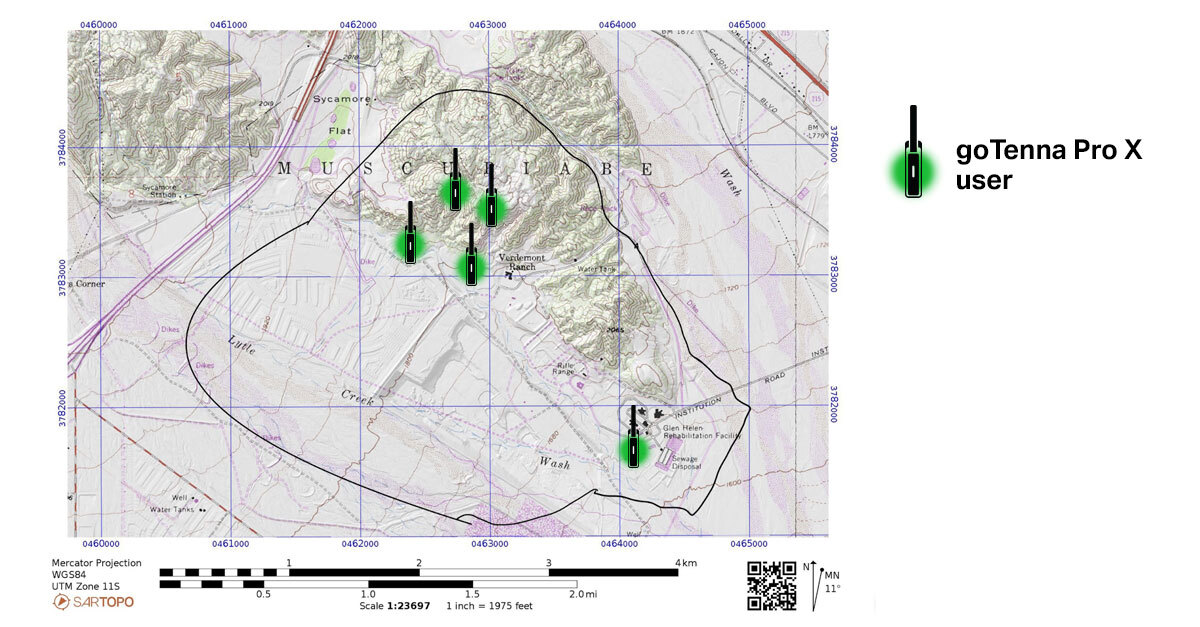 The very first time we did one of our rural tactics classes, we had issues because we do night work. But, even in the day, when you are in heavy brush, like a forest, you can't see very far. In these environments with limited visibility, you have teams with weapons looking for an armed and dangerous person, and the probability of getting into a friendly fire incident is pretty high.
That was one of the big takeaways with the goTenna. Because you are able to track each other and see each other on a map, you can prevent that type of situation from becoming a friendly fire incident or situation. Having situational awareness of all members of the team is outstanding, and essential.
To read the full goTenna Pro X test results from the VTC training exercise, view the case study HERE.
For more information about VTC, visit their website here.