4 Takeaways from an interoperability TAK demonstration presented at the TAK 2023 Conference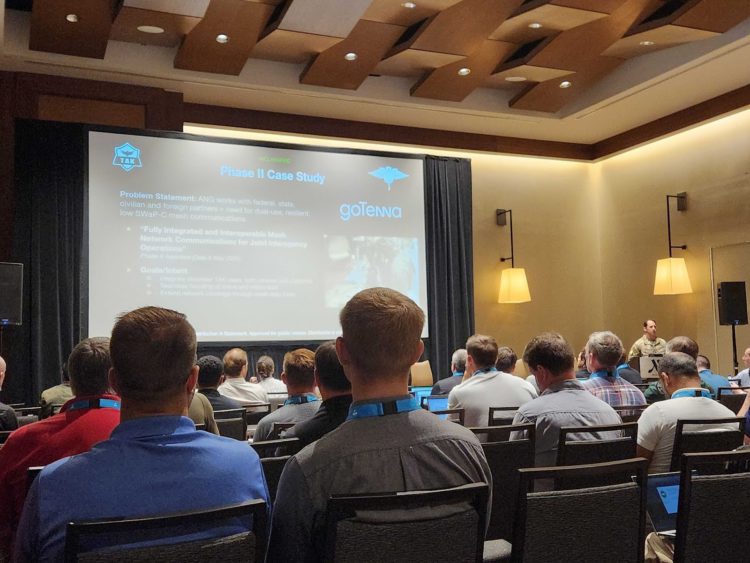 In August of this year, industry, defense, and public safety officials from the United States met at the annual Team Awareness Kit (TAK) offsite held in Raleigh, North Carolina. This incredibly technical and comprehensive event encompassed over 30 sessions, including keynote speakers, program briefings, panels, and technical tracks. These sessions spanned various topics, from invaluable TAK firefighting insights to in-depth explorations of aviation TAK app functionalities. Among the distinguished presenters was Air Force Major Kris Bartels, hailing from the 147 ASOS.
During his presentation to a substantial audience of fellow TAK operators, Major Bartels delved into a crucial aspect of defense innovation – the significance of collaborating with small businesses. His engaging talk resonated with hundreds of attendees, emphasizing the pivotal role of such partnerships in remaining at the forefront of defense technology advancements.
In particular, Major Bartels shared the remarkable achievements of the 147 ASOS during a recent TAK field test conducted in collaboration with a defense startup. His presentation served as a testament to the practical benefits and innovation that can arise from strategic partnerships in defense technology.
"We're taking risks every day, innovating and thinking of new ways to create new technologies that help the warfighter and help us be innovative. That's exactly what the most recent national defense strategy says. We must be willing to partner with the civilian infrastructure to de-risk in a near-peer fight," said Bartels. "There's continual feedback. We have to be willing to listen to each other. We have to be willing to partner because ultimately, as you'll see, we have to go and take a risk."
Major Bartels has extensive experience collaborating with multiple agencies in the midst of Texas' unpredictable and harsh seasonal weather conditions. In the face of every natural disaster, he and his team grapple with the daunting challenge of operating in environments devoid of power and effective interoperable communication systems. Serving in the Air National Guard, Major Bartels frequently takes on the crucial role of leading search and rescue missions in the aftermath of these calamities, where his expertise becomes indispensable. Whether battling the elements or coordinating with various agencies, Major Bartels remains a seasoned professional in disaster response.
His experiences have highlighted the critical need for enhanced interoperability among operators on the ground. Major Bartels firmly advocates that the integration of dual-use technology can significantly bolster situational awareness, benefiting federal, state, and military partners alike.
In response to this need, the 147 ASOS partnered with a mobile mesh networking company to demonstrate a fully integrated, interoperable, low-cost, and rapidly deployable mesh network. Within this demonstration, Major Bartels emphasized the pivotal role played by TAK, given its widespread adoption among civilian, military, and foreign groups. He aimed to ensure seamless data between personnel operating on-grid and in off-grid scenarios.
A crucial part of the demonstration centered on the visualization of vital, life-saving data on a common operating picture. This encompassed real-time insights such as the immediate detection of a new controller appearing on the map, the precise location of the nearest hospital facilities, and the availability of essential command and control information. Bartels emphasized the importance of expediting the dissemination of critical information and resource allocation in the event of a disaster.
"We deployed in less than three hours," Bartels said. "We brought in six different interoperable agencies."
The demonstration simulated a natural disaster and supported multiple federal and state agencies, extending connectivity through a TAK server and portal showing multi-platform interoperability. Notably, during the event, the mobile mesh company could extend the coverage through 61 miles in a linear fashion as well as a blanket of connectivity of 26,000 square miles.
The four key TAK demonstration results included were:
1) Interorganizational Connectivity: Six different state, federal, and civilian organizations supported mobile and command nodes
2) Application Interoperability: Connection between TAK, Pro iOS, a mobile mesh networking portal, TAK Server, and other TAK clients
3) Extended Coverage: 61-mile urban network established with rooftop relays, aerial extensions, and mobile users
4) Network Health Insights: Receive remote diagnostics of active relays. This helps to troubleshoot the network at the edge.
The session concluded by highlighting the profound significance of the demonstration for TAK operators. This collaborative endeavor, bringing together the public and private sectors, expedites innovation and mitigates communication risks within a decentralized, common operating platform. Furthermore, it catalyzes refining, enhancing, and improving customization for different mission requirements.
Perhaps the most crucial takeaway, applicable to public and private teams, is the imperative uniformity of ATAK and plugin versions when responding to natural disasters. This ensures that all operators are ready to leave for their destination and arrive on the scene with just their mobile phone and a mesh networking device, fully operational on one shared operating picture across multiple state and local agencies, achieving full operational readiness in just a matter of minutes.