goTenna and Urban Sky shatter coverage records at Tough Stump Tech Rodeo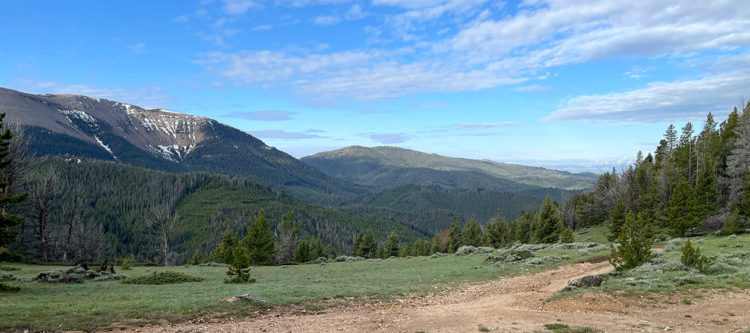 In June of this year, the goTenna team had the privilege to participate in another Tough Stump Tech Rodeo, an off-grid communications field test hosted by Tough Stump Technologies. This yearly collaborative event provides an opportunity for technology vendors and equipment manufacturers to showcase their products and also work together with other vendors to provide solutions for the warfighter on the ground by testing them in austere, remote, and harsh environments.
Last year's event resulted in the goTenna Pro X surpassing its own range record at the edge of space, showing just how effective this device can be in connecting a wide geographical area in the most remote and austere environments. For this year's event, our objective was to push the boundaries even further – which we accomplished with the help of our partners.
goTenna's participation in this year's Tech Rodeo involved supplying connectivity for the participants, and conducting a number of exciting field tests designed to test and push the limits of what our solutions were capable of. Over the course of a week, in one of Montana's more remote and inhospitable regions, goTenna partnered with the Naval Surface Warfare Center Indian Head (NSWD IHD), a naval research and development organization within the United States Navy, and Urban Sky, a leading developer of stratospheric flight and remote sensing technology, to put our technologies to the test.
Here's a look at the results from the field tests:
Field Test One: Bunker Relay Test
The first field test of the Tech Rodeo occurred in the vicinity of Virginia City, Montana, and involved the use of two goTenna Pro X2 devices enclosed in protective Bunker Supply relay boxes. These two, hardened goTenna Pro X devices were utilized to establish an off-grid, ad-hoc mobile network that enabled Tech Rodeo participants to communicate across numerous sites—becoming the backbone for communication during the entirety of the Tech Rodeo.
The goTenna mobile mesh network provided all participants with real-time updates of both stationary personnel and those on the move through the entire event, covering an area of 540 square miles of mountainous, wooded and rocky terrain. In a remote location where cellular signals and traditional terrestrial networks were unavailable, goTenna's unique, long-range, and reliable network characteristics provided a real-world safety network for the entire event.
The first Bunker relay was placed at an altitude of 8,400 feet on top of a mountain surrounded by tall pine trees. Whereas the second bunker relay was placed at an altitude of 8,100 feet in a wide-open area. The first bunker relay experienced thirty minutes of rain and hail conditions without taking any damage to the exterior or interior components and emitted perfect signals throughout the event. Both relay boxes with the Pro X2 were able to establish and maintain communications throughout multiple valleys, linking multiple metropolitan areas.
Astounded by the wide range connectivity goTenna showcased for the third year in a row, a Tough Stump Tech Rodeo employee commented that, "…once again goTenna is the only radio with comms."
Though the first field test was focused on connectivity on the ground and among mountain ranges, the second field test encapsulated how well goTenna's long-range connectivity did above ground level, leveraging aerial assets to create a dome of connectivity over the entire exercise.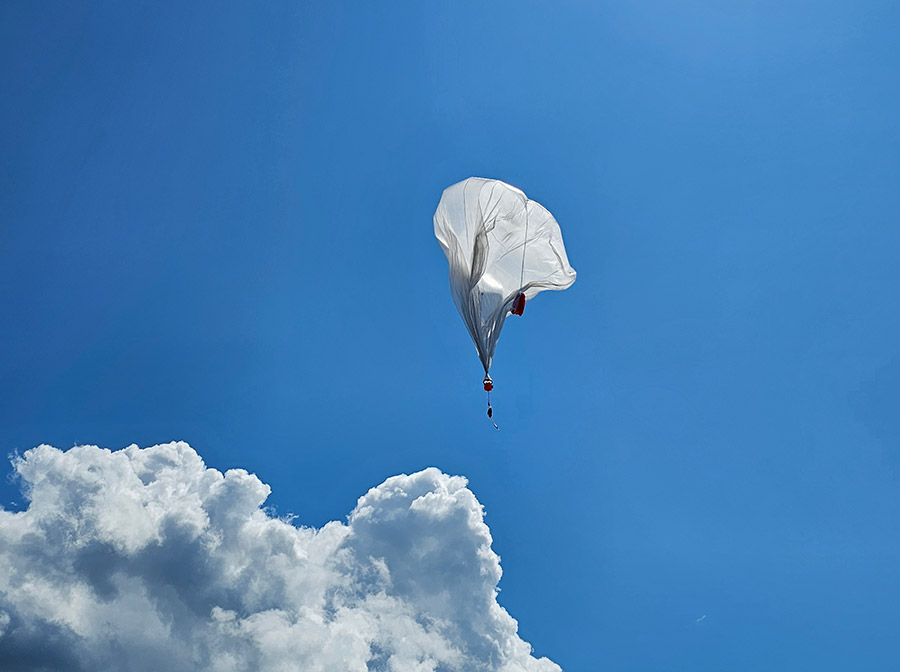 Field Test Two: Balloon Mission Test
In previous high-altitude distance tests, such as military freefall, aerostats, aircraft tests, and others, goTenna mobile mesh networking relays have proven successful in transmitting a long-distance signal above ground while surviving harsh weather conditions. But could goTenna mobile mesh networking relays transmit to other nodes miles apart while being propelled thousands of feet in the air?
To test this theory, goTenna teamed up with Urban Sky.
goTenna connected two mobile mesh relays to two despaerate Urban Sky weather balloons to determine how wide of a mobile mesh network they could create. The network size would be measured by how far away the balloon relays could travel while still connecting to the pre-placed relays from field test one.
The first balloon was launched into the sky at Mission Field Airport, Livingston, MO, and the other was launched just over 100 miles away near Ennis Lake, Ennis, MO from the back of a pickup truck in five minutes. Each balloon's altitude reached approximately 57,000 feet for a five-hour flight extended in the air.
Once these balloons were launched into the air, the two participants that had smartphones connected to the mobile mesh nodes were able to relay a message to the other through the high-altitude balloons at a total distance of 231 miles – surpassing the previous record from the last Tough Stump Tech Rodeo's previous point-to-point record of 126 miles.
All told, the total mobile connectivity coverage that all four of the relays projected was 14,412 square miles. To put this into perspective, 14,000 square miles is larger than the State of Maryland, as well as the countries of Qatar and Lebanon. This astounding distance is also twelve times the size of Rhode Island and 210 times the size of Washington, DC.
According to Andrew Antonio, Co-founder and CEO of Urban Sky, "This showcase represented a breakthrough in low-cost, rapidly deployable, long-range stratospheric communications".
The combination of Urban Sky's rapid deployment capability of their balloons and goTenna's long-range communications capabilities offers ground-based forces a practical and reliable way to quickly establish connectivity over significant distances. This unlocks new capabilities for law enforcement, military, and public safety operators with the ability to rapidly deploy communications networks anywhere in the world.
To learn more about how goTenna mobile mesh networking can provide an off-grid communications network for emergency personnel or military operators, click HERE.