Tough Stump Tech Rodeo recap: goTenna Pro X surpasses its own range record at the edge of space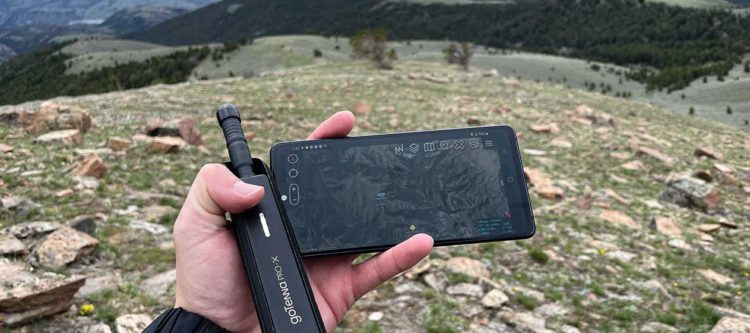 Last month, the goTenna team had an opportunity to demonstrate their mesh network capabilities at the Tough Stump Tech Rodeo, an off-grid communications field test hosted by Tough Stump Technologies. This recurring event provided an opportunity for technology vendors and equipment manufacturers to show off their solutions and test them in austere, remote and harsh environments.
While this certainly wasn't goTenna's first rodeo, there were still some exciting findings and lessons learned from the demonstration. Most notably, we learned just how effective a goTenna Pro X device can be in connecting a wide geographic area – even in locations with extreme elevation differences, forests, and other features that may traditionally hinder traditional methods of off-grid communications.
Conducted over the course of two days in a remote part of Montana, the Tech Rodeo provided the company with an opportunity to push goTenna's solutions to the limit – connecting multiple nodes over wide areas. It also provided us with a chance to take the goTenna Pro X solution to new heights and see if the device could survive in extreme geographical conditions.
Here were the top results from the field tests:
Day One (June 6, 2022): Ennis, Montana
The first day of the Tech Rodeo occurred at Upper Canyon Outfitters, in the vicinity of Ennis Montana. During day one, goTenna was called upon by event organizers to provide the administrative communications backbone for the entire Tough Stump 2022 event.
The goTenna mobile mesh network enabled Tough Stump and other vendor participants to maintain personnel tracking and communications over a 400 square kilometer area. In a remote location where cellular signals and traditional terrestrial networks were unavailable, goTenna's unique, long-range and reliable network characteristics provided a real-world safety network for the entire event.
During one portion of this test, the use of goTenna's mesh network enabled an operational area of 60 linear kilometers, which was significantly better than line-of-sight. The small data utilized by the goTenna Pro X devices ensured high reliability even over long distances. This was accomplished with just two relay nodes placed at higher elevations.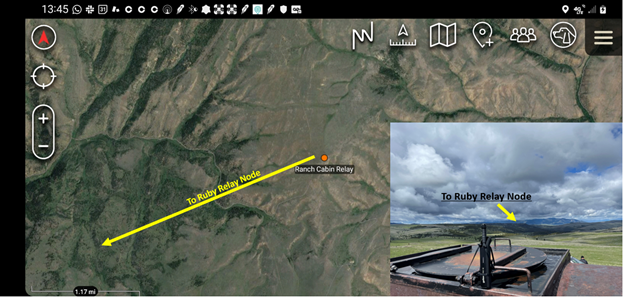 The operational area achieved on day one was still well below the range limit of goTenna's network. This was a result of the geography and terrain and could have been increased by further elevating the relays. The nodes used as relays in day one testing were attached to a short tree and tall water tank – effective for getting them off the ground, but not nearly as high as we've achieved by deploying goTenna devices inside of an aircraft.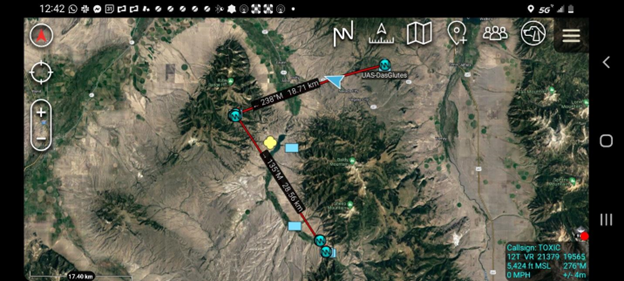 The Ruby relay site, which was located 17.7 miles (28.5 km) northwest of the Operations Center and 18 miles (29 km) Southwest of the Ranch Relay Node, functioned as the primary relay responsible for retransmitting traffic from the Ranch Relay Node to the operation center. This mobile mesh networking relay provided low throughput connectivity in a canyon continuously for six hours on a single charge.
The goTenna mobile mesh network's ability to deliver highly reliable connectivity over incredible distances ultimately resulted in other vendors abandoning their limited cellular and radio communications and relying on mobile mesh to communicate with each other and see each other on a map.
While Day One was all about connectivity on the ground, Day Two focused on what mobile mesh networking can do when relays are up in the clouds.
Day Two (June 7, 2022): Southwestern Montana
In previous articles on The Last Mile, we've talked about how the coverage area of a goTenna mobile mesh networking relay increases exponentially as it is carried to high elevations. This is something that goTenna has tested with a wide range of aircraft, from helicopters to airplanes. But could a goTenna Pro X survive the harsh conditions and low temperatures it would experience attached to an aerostat at 100,000 feet? And could it connect distant nodes miles away from the operational area?
On Day Two, goTenna and Tough Stump embarked on a journey of discovery to find out.
A goTenna Pro X, a smartphone, and Tough Stump ATOS Tag were connected to a weather balloon, which was inflated and allowed to rise to altitudes between 60,000 and 100,000 feet (182,880 and 30,480 meters), where they would experience low pressures and temperatures as low as -80 degrees. To keep the three pieces of technology safe and warm, they were wrapped in foam with a hand warmer.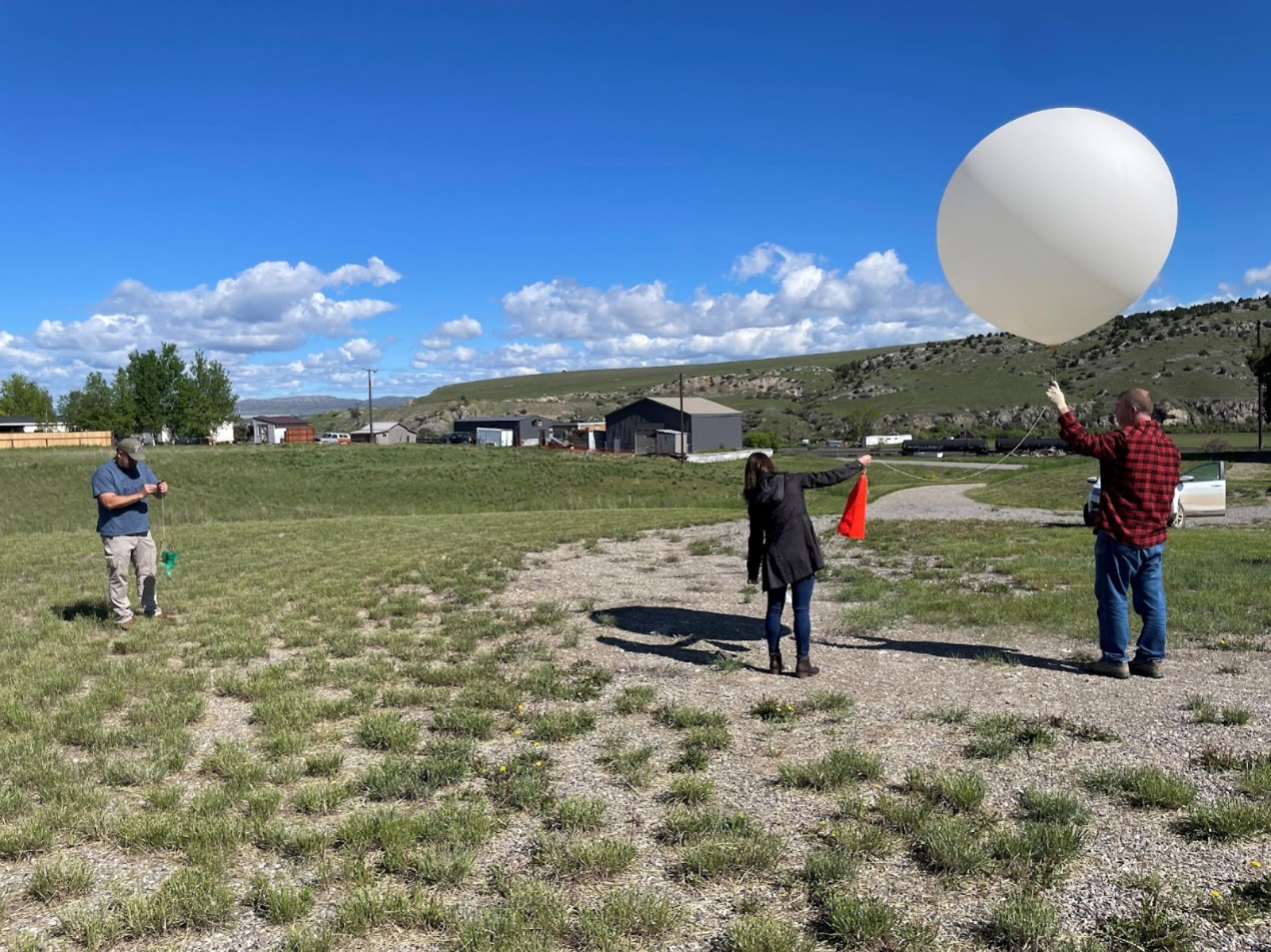 The devices were connected to the Tough Stump network and, as the weather balloon ascended at a rate of about 1,000 feet (304 meters) per minute, they began to connect and communicate with an increasing ecosystem of nodes and relays.
At 10,000 feet (3,048 meters), the balloon began relaying the Tough Stump network to the chase vehicle and the launch site. At 10,500 feet (3,200 meters), the higher elevation nodes began to populate as they entered the line-of-sight. The rest of the network soon followed. At around 20,000 feet (6,096 meters), the network was fully formed, and traffic was passed over the network. This continued until 65,000 feet (19,812 meters) when network connectivity started to drop in the command area.
The chase vehicle never lost contact with the goTenna or the ATOS tag for more than 10 seconds during the flight. And, at 102,000 feet (31,089 meters), a distant node located in Yellowstone National Park, approximately 75 miles (120 kilometers) away from the balloon launch point, was able to integrate with the Tough Stump network just prior to the balloon popping and beginning its descent. The descent lasted approximately 20 minutes, after which a chase vehicle was able to recover the payload.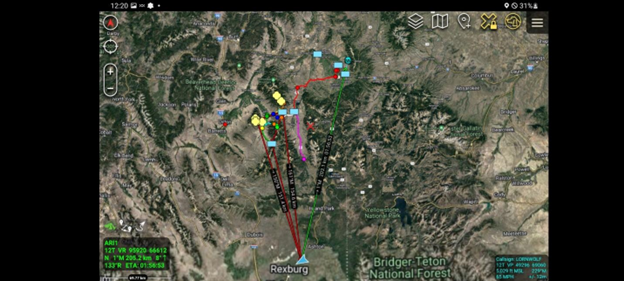 Overall, the payload worked flawlessly, even at low temperatures and pressures. By connecting the node in the air to the node on the ground in Yellowstone National Park, a new record operational area of 126 miles  (203 kilometers) was achieved.
This most recent Tough Stump Tech Rodeo may not have been goTenna's first, but it was one of the most informative and educational. Mobile mesh networking once again illustrated its ability to provide communications and situational awareness even when traditional networks are denied, degraded, or unavailable. The goTenna Pro X demonstrated its ability to survive incredibly harsh conditions to deliver unprecedented range and connectivity over massive geographies.
To learn more about Tough Stump Technologies, click HERE. To learn more about mobile mesh networking can provide an off-grid communications network for emergency personnel or military operators, click HERE.