Tech Spotlight Series: Hoverfly on the tactical advantages of tethered drones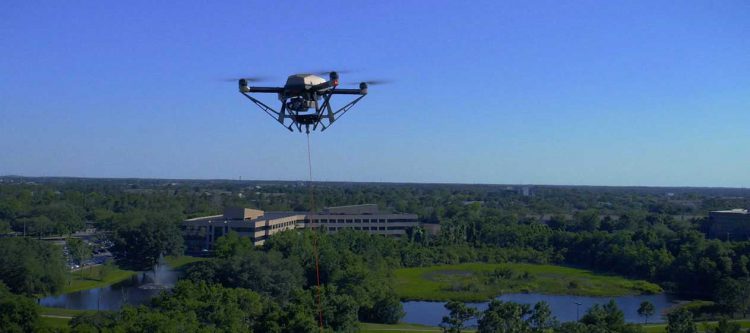 Unmanned aerial vehicles (UAVs) are flying high above today's battlefields, special events, and disaster zones to provide critical situational awareness to tactical teams on the ground.
But what happens when that military intelligence, surveillance, reconnaissance (ISR) mission or wildfire survey lasts days at a time? Untethered drones can only stay in flight for a short period of time without additional battery power. This is where the tethered drone solutions pioneered by Hoverfly come in. 
We recently sat down with Rob Topping, the CEO of Hoverfly, to discuss how military and public safety agencies can take advantage of tethered drones like their LiveSky solution to capture real-time visual data and even transmit off-grid communications signals.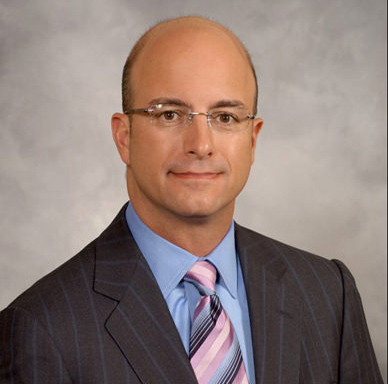 The Last Mile (TLM): Can you tell our readers a little bit about Hoverfly? What is the company's history? Solutions and products?
Rob Topping: Hoverfly started in 2010 and invented the first flight controller for multi-rotor drones, which were called the "Hoverfly Pro" series of flight controllers. This series was adopted by thousands of developers back when the drone industry was in its early days. Hoverfly was the innovator in drone control electronics and software.
Hoverfly has evolved from solely creating flight controllers to developing industry-leading LiveSky tethered drones for customers in defense, communications, and security. The Hoverfly LiveSky is our best-selling product today.
TLM: What is a tethered drone? What advantages do tethered drones provide in contrast to untethered drones?
Rob Topping: A tethered drone is a system that doesn't have to rely on battery power because it gets power over an engineered tethered assembly from a ground tether kit which is portable or can be installed on vehicles, or on a vessel. The tether system provides power to the drone and also serves as a secure network.
Since LiveSky does not use RF controls we are not susceptible to interference, jamming, and hacking. Because of the persistent power, Hoverfly LiveSky and BigSky systems can fly for unlimited durations. Not minutes, but days, weeks, and even months at a time without landing. Therefore, these types of airborne assets can be used for communications relay and security applications.
Imagine having a camera for security and an antenna high above the earth, anywhere you wanted. Now that's connectivity!
TLM: How could tethered drones benefit the military? What use cases do they have for defense organizations?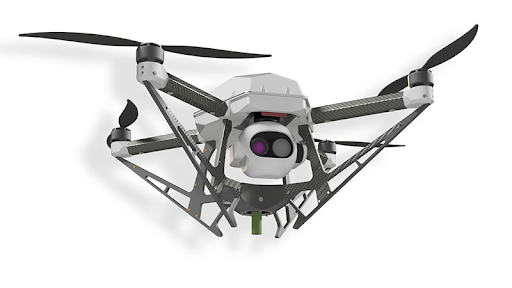 Rob Topping: Obviously, security and defense customers are interested in persistent long-range surveillance and communications. They also have multiple simultaneous complex requirements for which only our LiveSky product wins the day. Whether it's operating base security, or company or battalion-level communications, LiveSky can improve force protection and soldier lethality by extending the eyes and ears of defense forces.
TLM: What about public safety organizations? What use cases do tethered drones have for these organizations? In what kinds of scenarios and situations could they be useful?
Rob Topping: All first responders can benefit from the ability to evaluate the scene or event characteristics on a persistent basis. For instance, our fire department customers look at a fire scene using visible and thermal cameras and can see at night or through smoke to keep their operators safe.
Video streams from the LiveSky network are shared among the response and command team so everyone has instant high-ground visibility to improve incident response.
TLM: Hoverfly was recently at the OCR event sponsored by Verizon. Can you tell our readers about this event and how Hoverfly's solutions were utilized in the featured scenarios?
Rob Topping: We were happy to be there and showed our partners and attendees ways in which communications can be enhanced in disaster, emergency, and contingency operations. Because the LiveSky system is mobile, repositionable, and can fly almost any payload, it means that communications can be delivered when normal communication functions are not available.
Using LiveSky, many tactical radios, cellular, wifi, and other communication devices can be deployed to high altitudes to deliver or return service to customers and to help first responders.
TLM: We often hear that drones can work in conjunction with mobile mesh networking to increase situational awareness and connectivity in areas where terrestrial networks are untrusted or denied. How is this possible? What benefit does a tethered drone have for this use case?
Rob Topping: Imagine hundreds of tethered drones flying in a grid and what that would mean for connectivity on the ground. That LiveSky communications grid means that everyone would have persistent, long-range communications. Persistent communications can be established quickly and reliably with LiveSky. No wire or fiber to install on the ground, the network is a mobile ad-hoc network of flying communications nodes.
For more information on the role drones and mobile mesh networking can play in wildland fire response, click HERE.