Leveraging mobile mesh to help AMO detect, identify, and interdict threats to US border security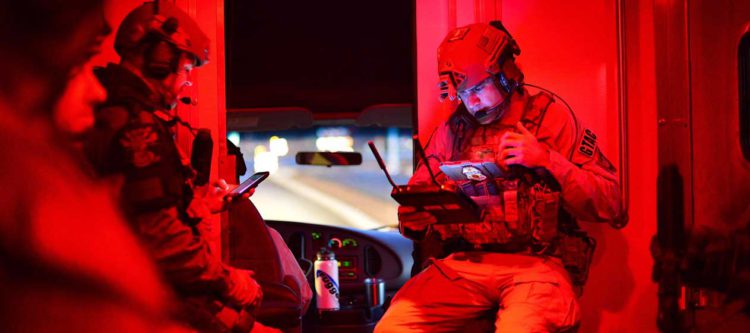 In our last article on The Last Mile, we took a detailed look at the dangers U.S. Customs and Border Protection's (CBP) Office of Field Operations (OFO) officers face along the country's maritime borders and at its ports of entry. We also explored the logistical, operational, and communications challenges they face in the line of duty.
But there are other agents within CBP that face similar communications challenges – not because they're down in the bowels of a shipping vessel but because they're flying hundreds or thousands of feet in the air.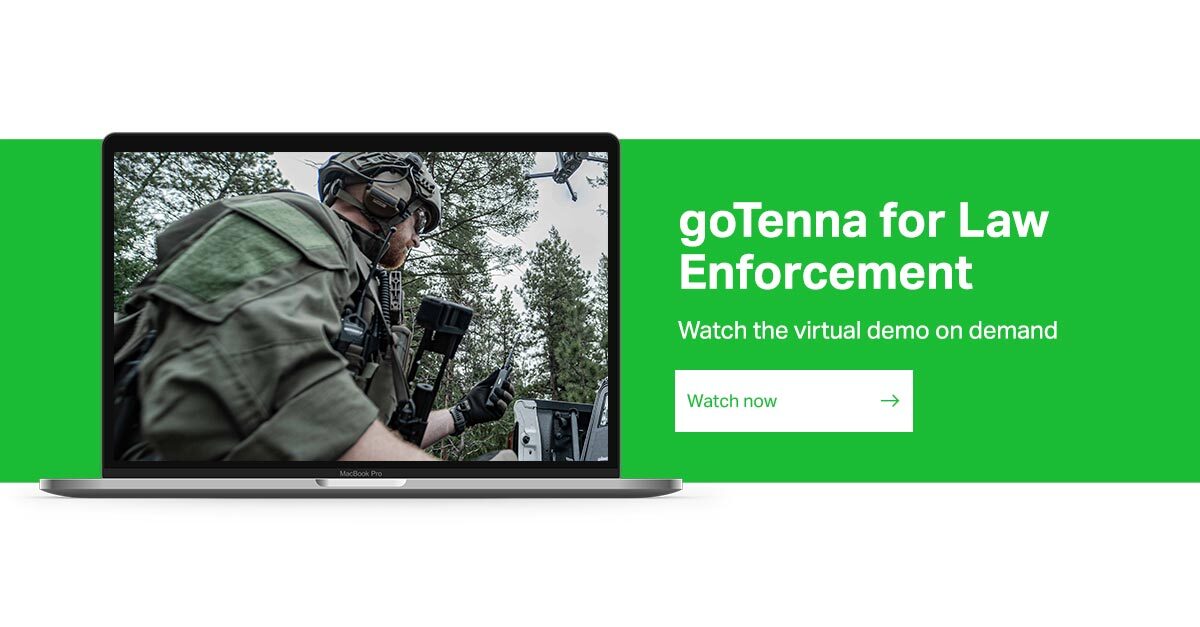 Eyes in the sky without a mouth or ears
CBP's Office of Air and Marine Operations (AMO)  functions to provide tactical maritime and aerial assets to CBP interdictions. This often involves leveraging aerial vehicles – such as helicopters – in a command and control capacity. Pilots, senior leaders and Ground Team Air Controllers (GTACs) direct these missions and ensure mission success will utilize AMO aerial vehicles to get a high-altitude view of an operation. 
By flying in helicopters over a CBP interdiction or other operations, these leaders can get a better understanding of what is happening on the ground and make informed decisions as to where assets should be deployed. They can also be a set of eyes in the air, alerting officers on the ground to changing circumstances or any new dangers that may arise during the execution of a mission. Having all of your team's locations in real time is critical and applications like the Team Awareness Kit (TAK) can expand situational awareness immediately. 
While having a bird's eye view of a mission has its benefits, it also has its drawbacks. And one of the challenges facing CBP AMO is communicating with officers on the ground and monitoring agents' movements and positions from those who are not connected.
Helicopters often operate at an altitude of over 4,000 feet. The aerial assets overseeing a military, national defense, or law enforcement mission will operate much lower – often closer to 1,500 feet above the ground. Getting closer to the ground can not only be dangerous, but it can also negate the situational awareness advantage that comes with high altitude.
Aside from the noisy nature of helicopters (which can make voice communications difficult to hear and comprehend) the large distance between agents on the ground and those in the air can make connectivity a challenge. This challenge is further complicated by the fact that some officers on the ground may be present on a low floor of a multistory building, in a parking garage, or even in a vehicle. They may even be searching the engine room of a large shipping vessel, which – as we've already established – comes with its own set of problems.
So, how can CBP AMO ensure critical communications between its aerial vehicles and its officers on the ground during immediate threats like the recent massive crowd of migrants storming the El Paso border checkpoint in a brazen attempt to enter the US?
Mobile mesh ensures comms at altitude
When an aerial vehicle such as a helicopter drops off officers and then gets to altitude, it can lose all notion of where they are and where they went. Worse, the communications challenges between the ground and air can make it difficult for officers in the air to direct agents on the ground, give them updates, or even get distress calls. This can make operations more dangerous for CBP officers and agents like special response teams (SRT) who work with AMO.
Mobile mesh networking can help eliminate all of these challenges, and ensure that officers in the air never lose communications and situational awareness of CBP personnel – even if they are required to go inside a building, a parking garage, or the hull of a ship.
Leveraging a mobile device or a laptop with the TAK application and a mobile mesh networking device like goTenna, officers in the air can not only have basic text communications with everyone on the ground, but they can also see physical locations of teammates on a map. This ensures that officers in the air never lose track of personnel on the ground and allows for directions, information, or distress calls to be received by those that need to receive them. This capability will be even more powerful with the future release of WebTAK. Like TAK, WebTAK is a geospatial collaboration platform that allows teams to share information and access data to improve real-time situation awareness which can be deployed in existing cockpit configurations. 
Since these communications take place via text, they are not only available for future reference but are also easier to receive and comprehend within the noisy confines of a helicopter. Both of these characteristics are often undervalued by tactical operators, but being able to read and comprehend a message in the noise and chaos of a law enforcement or military mission can be game-changing and the ability to revisit directions or information can help with comprehension, retention, and adherence to orders. 
Mobile mesh networks can also extend to cover wide areas and deep underground. Since each device receives and then retransmits the signal, each device effectively functions as a repeater – extending the network and connectivity to the very edge of an operational area.
Finally, there's the issue of interoperability across all of CBP. 
Considering the job and responsibilities of CBP AMO, many operations and interdictions are done in collaboration with state, local, or tribal law enforcement and other federal agencies. Some examples of the operations that AMO conducts in conjunction with other federal or local law enforcement organizations include enforcing high-risk warrants, prisoner escape, search and rescue, and search and capture missions. Many of these missions are dangerous or high-risk and benefit from collaboration, coordination, and communication between all participants and participating groups.
Unfortunately, different law enforcement and government organizations often bring their own technologies and communications solutions to an operation and there is a good chance that these systems will fail to interoperate and work together. If CBP is working with a state or municipal law enforcement organization, this lack of interoperability can leave all parties unable to communicate, and with a lack of situational awareness.
This is another area where mobile mesh networking can help. 
Mobile mesh networks are ad-hoc in nature and can be deployed in minutes by simply distributing mobile mesh radios to all law enforcement personnel on the scene. Since mobile mesh radios connect seamlessly to most mobile devices via Bluetooth or cable – including smartphones, tablets, and laptops – they will work with virtually any device that these individuals are already carrying. This means that every individual from every organization – regardless of whether they're CBP, local law enforcement, or state law enforcement – can communicate and leverage the advanced situational awareness capabilities of applications such as TAK.
But can mobile mesh work at high elevations? And can it really connect people on the ground to those high in the air? 
Technology Expo illustrates efficacy
In June of 2022, the goTenna team had an opportunity to demonstrate its mesh network technologies at the Tough Stump Technology Expo, an off-grid communications field test hosted by Tough Stump Technologies.
On the second day of this field test, an aerostat was launched with a mobile mesh networking device attached. This was done as an experiment to gauge the functional range of the device at high altitudes and harsh conditions at elevation.
The results of the experiment were astonishing and were able to work across multiple agencies. According to a previous article on The Last Mile detailing the findings:
At around 20,000 feet (6,096 meters), the network was fully formed, and traffic was passed over the network…The chase vehicle never lost contact with the goTenna or the ATOS tag for more than 10 seconds during the flight. And, at 102,000 feet (31,089 meters), a distant node located in Yellowstone National Park, approximately 75 miles (120 kilometers) away from the balloon launch point, was able to integrate with the Tough Stump network…
As the testing illustrated, the goTenna mobile mesh networking devices still connected with another node at 100,000 feet. With a helicopter operating at approximately 1,500-10,000 feet, it's safe to say that the technology could easily connect CBP aerial assets with officers on the ground. Since then, goTenna has successfully been deployed on drones, helicopters, and fixed-wing assets allowing for communications over 26 miles from lower altitudes. 
The job of CBP officers and agents is dangerous. Far too dangerous for officers, agents, and senior leaders to lose track of their personnel or be unable to contact them. Mobile mesh networking can ensure that no CBP agent or officer is ever lost, and can deliver assured comms wherever they're operating – be it underground, in the belly of a ship, or even in the most geographically isolated and remote location on Earth.
Watch how goTenna' mobile mesh network connects air-to-ground operators and moving assets.