Key takeaways from scaling a mesh network in urban environments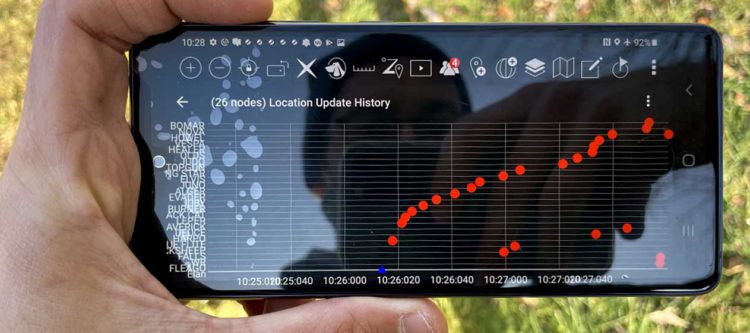 From deployed warfighters to search and rescue teams, mesh networking radios are becoming a common communications fixture for operators on the move. When attempting to coordinate communications and situational awareness amongst a large group of individuals and mission-critical assets, scaling traditional mesh networks has been difficult. Typically, adding more mesh mobile operators and therefore data traffic to a network can result in a degraded quality of service. With today's mesh networks, how many operators can connect to a single network? How much range can be achieved?
A government law enforcement customer worked with goTenna and Syzygy Integration's technical teams sought to address these questions by conducting field exercises that simulated a number of decentralized data sources, including ground-based sensor outputs, location and status of field agents, aerial and satellite remote sensing layers and fixed beacons. Throughout the test, network capabilities of the goTenna Pro X were benchmarked to understand if it is possible to provide greater situational awareness to large groups in off-grid environments with no cell service and no satellite connectivity.
The test took place in an urban environment within a terrain that included trees, buildings, and other physical obstacles. A portion of the nodes were in an area with significant RF interference, and for a number of the nodes, the interference was significant up to -40 dB (similar to standing by an active RF transmission tower).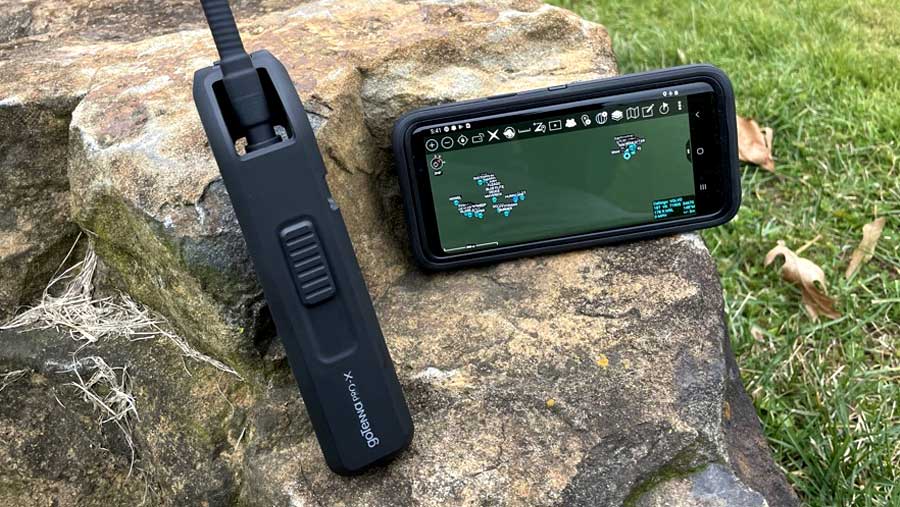 Takeaway #1: a mesh network can handle over 50 users without breaking
To set up the test, goTenna and Syzygy personnel established nodes throughout the urban area at Syzygy's headquarters in Conshohocken, PA. Each node consisted of one mobile phone with ATAK (Android Tactical Awareness Kit / Team Awareness Kit) and a goTenna Pro X device. All participants on the network were able to broadcast the position of their node to the wider group. We monitored the network throughout the testing to ensure greater than 95% successful delivery rate while we scaled from 10 to over 50 nodes. This test demonstrated the scalability of the network utilizing goTenna's proprietary Aspen Grove networking protocols. These nodes were distributed throughout a local park and amongst a nearby industrial park with strategically placed relays connecting these disparate areas. In addition, sensor data was being injected into the network through Syzygy's SNAP device from Syzygy's dismounted Argos sensor and MISB video feeds, creating additional traffic.
What is SNAP?
SNAP stands for Sensor Network Access Point, which is an edge compute/communication system which controls, calibrates, and fuses sensors on the edge. SNAP also provides AI capabilities for object recognition enabling autonomous sensor control. SNAP also seamlessly integrates disparate communication devices such as goTenna ProX, Iridium, MANET, Starlink, and cellular. SNAP also bridges all sensors and communication systems with ATAK/TAK users in the field and enterprise TAK and ESRI deployments.
Takeaway #2: A range of eight miles between two end users can be achieved in a high noise urban environment.
Urban areas are notoriously "noisy" radio frequency environments and feature physical impediments such as buildings, vegetation, and hills. All of these factors collectively limit the range of line-of-sight radios making communications particularly difficult in urban scenarios. 
goTenna and Syzygy personnel collaborated to test the effective range of the goTenna Pro X device in an urban environment. This test occurred at Syzygy's headquarters in the greater Philadelphia area, with one node positioned atop Syzygy's office building and another node traveling in a vehicle to increase distance. While one node was positioned at a higher elevation, there were several limiting factors including interference from local cell phone towers, vegetation, and buildings. Both goTenna Pro X devices were affixed at a person's shoulder to emulate an operational configuration. During the test, the number of received messages was logged to understand how the quality of service was degraded. Ultimately, the longest range achieved was eight miles which greatly exceeded the performance expectation in such conditions.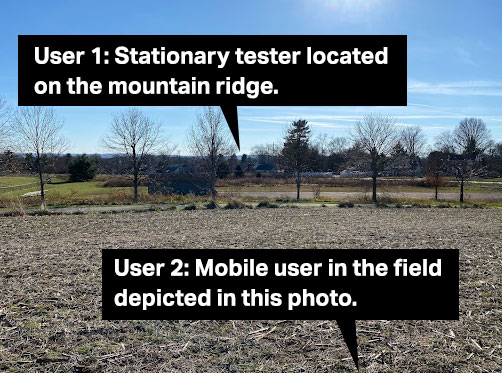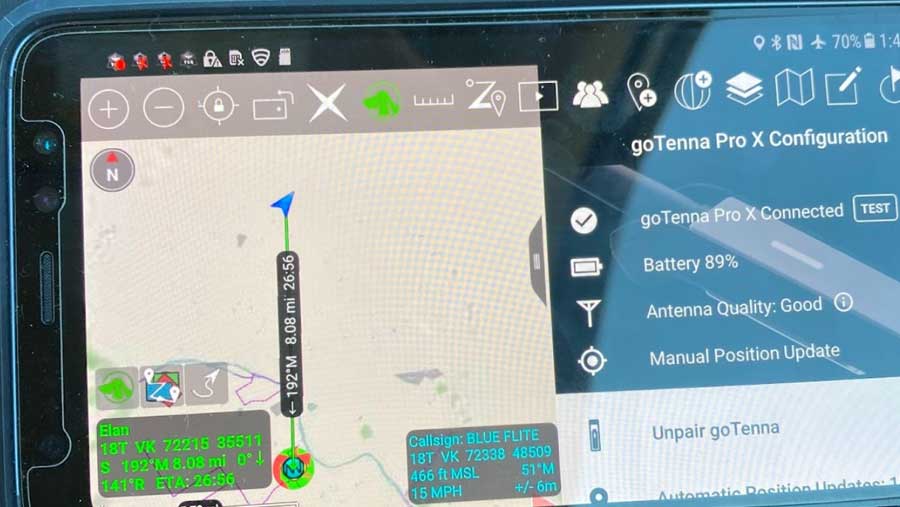 How does Syzygy integrate with goTenna?
Syzygy uses mobile mesh networking devices – like goTenna Pro X – to connect sensors and then utilize a single satellite connection to make it possible to monitor and analyze the data these sensors generate remotely. This eliminates the high cost of having multiple satellite terminals and antennas, making the solution less expensive and more scalable for users with tight budgets. This integration is achieved through Syzygy's SNAP system.
The test proved that more than 50 users could be supported in a single mobile mesh network while maintaining a high quality of service. Furthermore, the ability to achieve eight miles of coverage from a single node allows for geographically broad operations to be supported by these networks. This capability translates directly to public safety operators who need to operate on the same network as their interagency peers (medics, fire, police), the national guard, workers restoring power or cellular connectivity, search and rescue teams, and local volunteers can all stay connected during a large-scale response effort. This also applies to military operations responding to a global crisis where they need to track their partner forces, humanitarian aid workers, security teams and volunteers on the same network without relying on cell or satellite connectivity.
To see how well a mesh network works in different altitudes and terrain, click the links below: