Mobile mesh brings it all together for the National Guard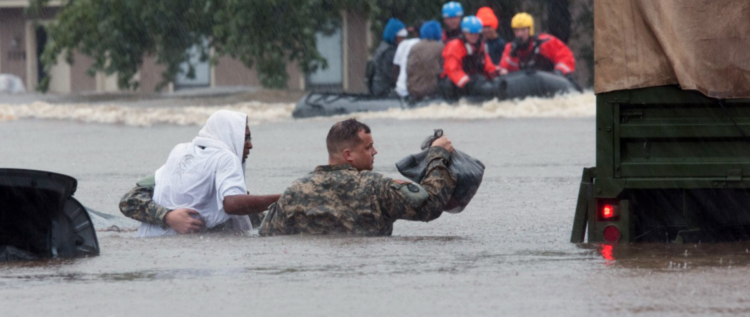 When massive natural disasters strike our nation, or when other large emergency scenarios occur, National Guard units from across the country and representing multiple different states, will often be mobilized to respond. The nature of the National Guard and the work that it does can create some unique challenges when it comes to equipment and technology. The National Guard is composed of 54 disparate organizations across the United States and its territories, and different organizations can often lead to stovepipes, with each individual division utilizing disparate systems and solutions.
This can be a problem when multiple National Guard units need to mobilize together to respond to a large emergency or disaster. More than 50,000 National Guard members were part of the response to Hurricane Katrina. That's more individual National Guard members responding to one disaster than the total Guard members that helped in COVID-19 response across all 50 states. When this many National Guard members from so many different states come together with their disparate systems and equipment, interoperability becomes a concern.
But working together among National Guard units is just part of the problem. That's because the National Guard never operates in a vacuum. When they respond to a disaster or emergency scenario, they're just a part of a larger government response comprised of state and local government agencies – such as police, fire, and rescue squads – and federal government agencies – including organizations like the Federal Emergency Management Agency (FEMA).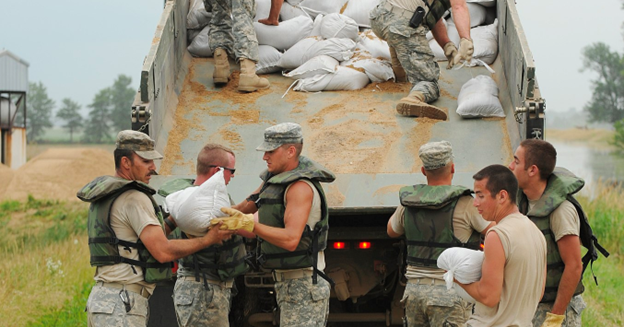 When disaster strikes and disparate groups converge to rescue survivors and deliver much-needed aid and relief, interoperability challenges are front-and-center.
This sentiment was echoed by Kenneth McNeill, the National Guard (NGB) Chief Information Officer (CIO) and Director of the Command, Control, Communications & Computers (C4) Systems Directorate during a recent event with C4ISRNET.
During a video interview, McNeill explained some of the challenges that the National Guard faced when working with other organizations during the response to Hurricane Katrina, "We were not prepared at that point…we were not able to talk with first responders…we [could] only command and control on the ground, you know, DOD to DOD."
That lack of interoperability made it difficult for the National Guard to collaborate and coordinate on its relief and rescue efforts with local government entities. "…the biggest impediment was not [being] able to communicate with civilian first responders…" McNeill said. "We did not have the communications capability to talk with…the local fire department, the police department, and even…FEMA…"
In these large disaster and emergency scenarios, traditional communications infrastructure is often destroyed or degraded. Power goes out, cellular networks go down, and the most heavily used and relied-upon form of communication is often eliminated right before the emergency response effort needs it the most. With cellular networks denied or degraded, the numerous state, local, and federal government organizations that comprise the response effort are left with disparate communications equipment and systems that might not work seamlessly together at a time when cooperation and coordination are most essential.
But there are options in well-constructed PACE plans that could help ensure communications and situational awareness capabilities are available when they're most needed.
Mobile mesh as an interoperable alternative
While different National Guard units from different states across the U.S. might not have the same equipment or use the same systems, their members probably all have a cellphone or smart device. There's also a very good chance that all of the members of the other state, local, and federal government agencies and organizations also are carrying their own cellphones or smart devices.
In fact, we know that National Guard members will have their own devices, because the organization is actively piloting an initiative that will allow them to use their personal devices on DoD networks. According to McNeill, "We have an initiative going right now…called 'Bring Your Own Approved Device.' In a typical state… all of our guardsmen… may not have government-furnished devices… so we have this initiative… where [they'll] be able to basically use [their] personal device."
The personal cellphone or smart device is the one thing that every individual in an emergency or disaster response scenario – regardless of organization – has in common. And mobile mesh networking is an ad-hoc, rapidly enabled, and easily deployed tool to get every one of those devices connected to each other. The radios simply connect to a smart device via Bluetooth or wire, and subsequently form an ad-hoc mesh network connecting all of the devices.
With a mobile mesh networking node connected to each individual's smart device, communications and situational awareness capabilities are immediately restored – even when cellular networks are down. The devices are small, easy to carry, easy to distribute on-site, and incredibly simple to use. This makes it both fast and easy to get a unit in the hands of every individual involved in disaster relief and get them communicating with each other – no elaborate training is necessary.
The National Guard has a long, storied history and an incredibly essential role in our society today. Members of the National Guard could be your neighbor, teacher, or someone you interact with every day. But, one weekend a month, two weeks a year, and when duty demands it – they're there to protect and serve their state and country.
The way the National Guard is organized and equipped – by its nature – creates compatibility and interoperability challenges when it comes to communications and situational awareness. And the fact that the National Guard often operates alongside other government entities only makes that interoperability challenge worse. Mobile mesh is an easily-deployed alternative – an insurance policy for when comms are essential for coordination and collaboration between groups and all other communications are denied.
To learn more about mobile mesh networking can provide an off-grid communications network for emergency response or disaster recovery, click HERE.