A cost-effective way to leverage IoT in government missions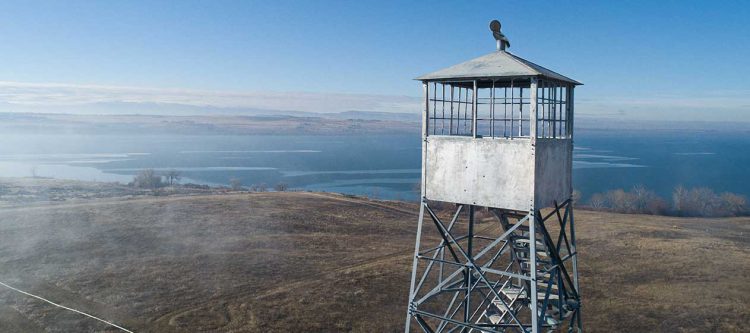 One of the recurring challenges that the government – at all levels – has faced for as long as many can remember is the need to accomplish massive missions with few resources.
To combat that challenge, the government is increasingly turning to technology to better expend taxpayer resources by bridging the gap of staffing and budget limitations. Most notably, the government is embracing Internet of Things (IoT) sensors – connected sensors that monitor environments for a wide variety of attributes.  These could be anything from environmental sensors to evaluate crop yield and climate change or to ensure security around a sensitive military installation or the nation's borders.  
Benefits of using IoT sensors at the last mile
U.S. Customs and Border Protection (CBP) has the massive job of securing America's thousands of miles of northern, southern, and coastal borders. Due to the vastness and harshness of the terrain, it would be nearly impossible – not to mention inefficient – to solve this problem with manpower alone.  
To extend the reach of the CBP, the agency is embracing surveillance towers and other IoT sensors that can monitor the environment and report back important findings – such as individuals in need of rescue. This fills the gaps where CBP agents aren't stationed – or can't be stationed – and helps America more effectively and efficiently both secure borders and render aid to those who need it most.  
IoT sensors play a critical role beyond just security and humanitarian missions. Take one particularly useful IoT program in Virginia Beach, VA, as an example. Flooding is a major problem for coastal areas – especially in today's world with climate change and shifting weather patterns. Virginia Beach is looking to utilize a network of ultrasonic sensors to gauge the water levels in rivers, bays, and tributaries as a way to better predict and respond to flooding events. The end result could be better emergency response, more proactive flood preparation, and – ultimately – the saving of property and lives.
However, while the proliferation of IoT sensors can make the government more effective and proactive, it comes with challenges – and costs.
Why connectivity is so costly at the tactical edge
Using IoT sensor data effectively – especially to proactively predict and respond to events – requires getting that data back to where it can be processed and analyzed in real-time. Without real-time access to that data, the sensors are limited in value. Unfortunately, real-time data aggregation means operators need cost-effective connectivity in off-grid environments.
Many of the places where government organizations may want to place sensors and harvest data are geographically remote or isolated. In these locations, terrestrial networks simply aren't available. Cellular networks often don't extend to those locations and Wi-Fi is usually out of the question. But access to networks and connectivity is just a part of the problem. Sensors that continuously monitor and report back environmental data over cellular networks aren't doing so for free.
Even if cellular networks are available, the government is paying monthly to connect its IoT devices and sensors to them. If you consider how many devices are needed to do something complex – such as monitor the activity on the border or the water level in rivers and bays – that cost for cellular connectivity can add up quickly.
Luckily, two technologies can come together to alleviate this problem – edge computing and mobile mesh networking.
Pivot to mesh networking for the most essential data
If all of the data being generated by an IoT sensor or device needed to be sent to a central location for processing, it would require a high-bandwidth pipeline to transmit. However, if you just need to move critical metadata – such as the location of a sensor reporting a flood, or an individual in danger – it opens the door to transmit that data via a lower bandwidth connection like what is offered via mobile mesh networking.
Mobile mesh networking can extend a cellular or satellite connection to the tactical edge by receiving and then retransmitting it from node to node. It can also be used to connect IoT devices back at the edge back to a central location in much the same way where the data can be backhauled via the most cost-effective data connection available. 
Also, while mobile mesh networking is a much lower bandwidth solution than – say – cellular networks or satellite, it offers two things that they don't:
Ad hoc connectivity anywhere –

a mobile mesh network can be established anywhere and everywhere in an incredibly rapid fashion. Mobile mesh networking nodes simply need to be deployed in strategic places to extend connectivity to virtually anywhere the mobile mesh network travels with you. Mobile mesh networks can be constructed in a truly ad-hoc fashion – such as tied to a tree – or attached to more permanent infrastructure such as a utility pole.

No recurring, operating cost (OpEx) –

Unlike cellular and satellite contracts, which require recurring costs for connectivity, mobile mesh networking has no recurring cost. Once the initial CapEx for the mobile meshing networking radios – or nodes – is spent, the resulting mobile mesh network costs the government nothing to use moving forward, as the data is backhauled over licensed or unlicensed radio frequencies.
This means that mobile mesh networks can be rapidly deployed at low cost to government agencies, and then the network connectivity that they need for their IoT programs can be provided to them moving forward with no additional OpEx costs – a true win/win that enables a cost-effective solution for a variety of use cases.
Today's government needs to rely on technology to extend its reach and effectively complete a variety of complex, and often dangerous, missions. They also need IoT devices if they're ever going to evolve from reacting to things like emergency scenarios to proactively preparing for them.
But, in a world of tight budgets and limited resources, solutions must be both cost-effective and scalable. IoT programs can be implemented quickly and inexpensively thanks to advancements in edge computing and massive, evolutionary leaps forward in mobile mesh networking technologies.
To see, first-hand, how mobile mesh networking can enable communication and situational awareness in emergency response scenarios, click HERE for a virtual demonstration.