Six ATAK + goTenna Pro X use cases for tactical off-grid operations
American warfighters can attest to the fact that maintaining situational awareness (SA) and communication amongst team members can be the determining factor of a successful mission. Whether warfighters are deployed on combat search and rescue (CSAR) operations, intelligence, surveillance, and reconnaissance (ISR) missions, or are a member of a special operations force, reliable SA and communications are essential – even when deployed off the grid.
In recent years, the Department of Defense (DoD) and the Department of Homeland Security (DHS) have adopted the use of mobile applications like the Android Tactical Assault Kit (ATAK), which have digitally transformed how special operations are organized and executed, leading to the advancement of SA and streamlined communication for military missions around the world.
If warfighters have an Android device and an internet connection, they are ready to download and begin using ATAK in theater. But with a growing number of CSAR operations being deployed to Disconnected, Intermittent, Limited bandwidth (DIL) environments, reliance on terrestrial communication infrastructures is not always an option, making SA and communication nearly impossible during an operation.
And this is where mobile mesh networking solutions, such as goTenna Pro X, can play a role.
goTenna Pro X is the world's smallest, lightest, and most cost-effective tactical communications system that enables off-the-grid connectivity. Through goTenna Pro X's mobile mesh networking capabilities, warfighters in the field can connect to ATAK and establish lines of communication and SA with one another, eliminating all off-grid connectivity challenges.
Unlike its sister product, goTenna Mesh, goTenna Pro X is designed for professional teams who require a product that is powerful, operational, ruggedized and rated for Intrinsic Safety and Ingress Protection. Combined with ATAK, goTenna Pro X can serve any situational awareness combat mission need in the field. With new functionalities constantly being added to ATAK's interface, CSAR teams can tailor their ATAK experience according to the specific functionalities that a mission requires.
Here are seven of the countless transformative ways that goTenna Pro X and ATAK can be integrated to support and advance off-grid tactical operations.
Send out mission packages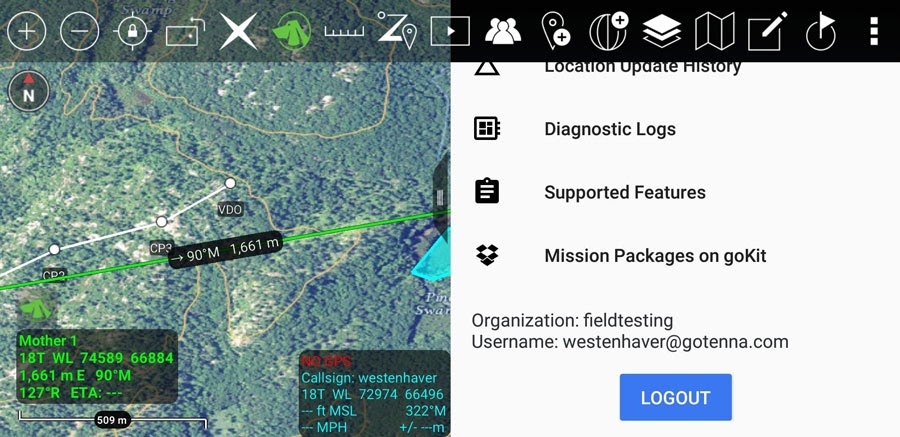 Mission preparation often begins with an orientation meeting where mission-pertinent materials are distributed to operation personnel. In the past, physical maps, routes, and other directives would be handed out, along with the hefty responsibility that each team member would be required to keep track of their own mission package materials. Physical mission materials and maps also came with the inconvenience of having to be read during the mission in low-light environments and harsh conditions.
Through goTenna Pro X's Deployment Kit, off-grid tactical operators are able to leverage a higher bandwidth option with storage for ATAK mission packs, where digital mission packages are instantly delivered to all team members' mobile devices. Prepared routes, interest points, geofences, other geographic data and larger data files such as embedded photos are immediately downloaded to the mission personnel's ATAK apps, eliminating the need of physical materials that could easily be lost or difficult to read in the field.
Send encrypted messages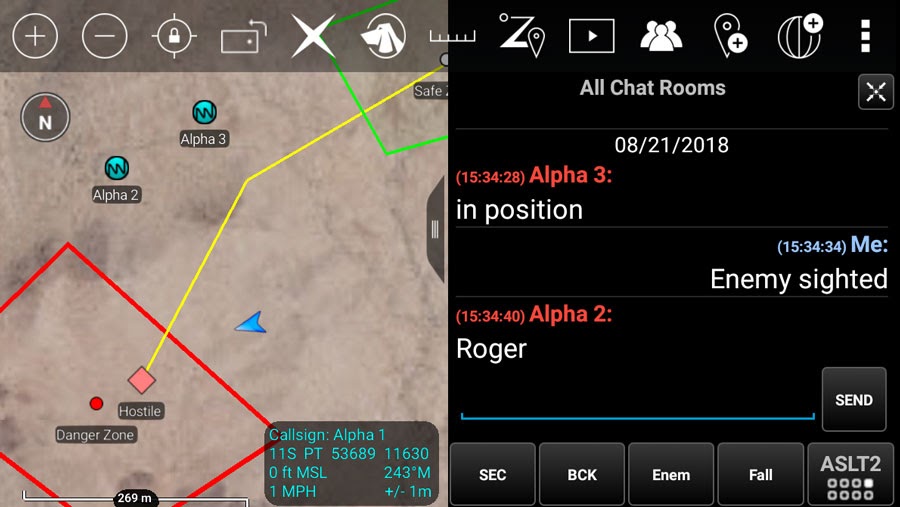 In all missions and operating environments, clear and direct communication amongst personnel is of the utmost importance. But for missions that are executed off-the-grid, establishing communication channels can pose a major threat to an operation's success. Operatives may need to communicate quietly and discreetly, which inevitably eliminates the use of radios. Radio communication can be loud and sometimes insecure, giving enemies the chance to intercept operation communication, potentially compromising the mission.
By providing CSAR, ISR and special operations teams with off-grid network connectivity, they are able to utilize ATAK's chat feature and communicate with team members via encrypted text messages, providing discrete and quiet communication without the risk of compromising information due to enemy interception. Through ATAK, tactical operators can send one-to-one direct messages or team wide broadcasts to the entire group. By incorporating the use of goTenna Pro X and ATAK in standard mission practices, off-grid personnel can maintain open channels of communication while keeping the entire team on the same page throughout an operation's lifespan.
Should standard operating procedures require, communication can occur completely unencrypted. Additionally, goTenna Pro X supports advanced use cases such as the ability to stack or layer encryption to customize access when working with partnering forces or in a training environment. 
Mark hazardous areas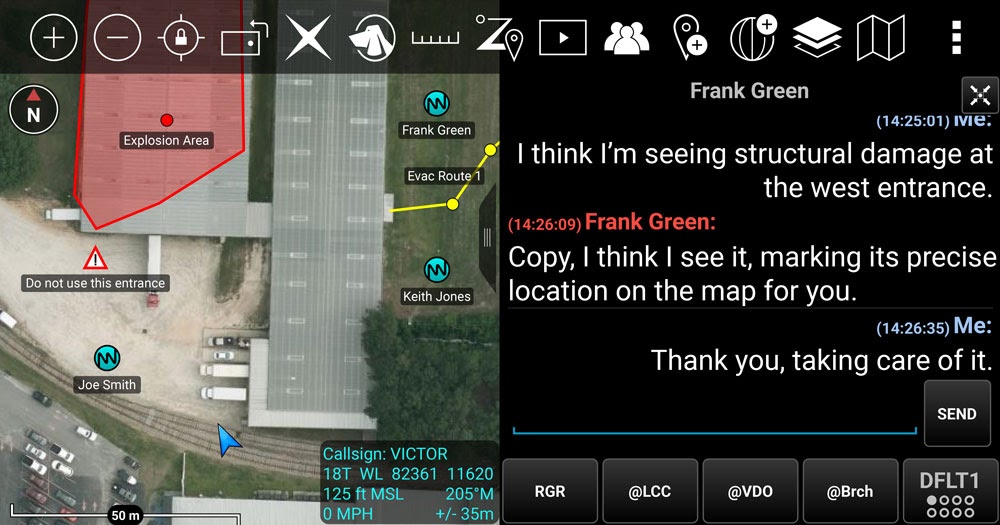 Maintaining awareness of hazardous factors that tactical operators may encounter is crucial when mapping out an area of operations, especially for missions that are executed at the edge. An ISR or rescue mission may take place in an area where there are chemical, biological, radiological and nuclear (CBRN) threats. Before entering the field, a CSAR team must know about any potential or known CBRN concerns that are in the vicinity. With this information, teams can avoid CBRN threats or take the necessary precautions when navigating within these areas.
ATAK's functionality plus goTenna Pro X's network connectivity allows real-time hazard prediction and vehicle navigation for CBRN events at the edge. ATAK users can communicate friendly, hostile, neutral, or unknown locations of interest with Military Standard 2525B symbols.
An entire operational team can view and receive automatic notifications with these geofenced or marked areas on the ATAK interface, allowing them to be fully prepared and aware of these threats. Whether its avoidance, putting on a promask, or just marking a hazardous area for reference purposes, ATAK allows users to take the necessary precautions to execute a mission successfully and safely.
9-line requests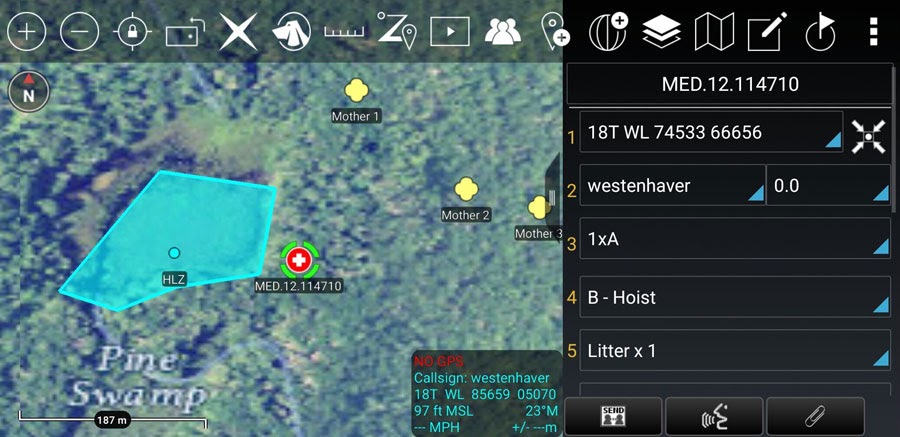 When tactical operators suffer critical injuries during off-grid deployments, streamlined protocols are essential for efficient and swift extractions. In emergency situations, it can be complicated to determine a patient's condition and location coordinates, making rapid rescue and treatment more difficult.
Coordinates can be relayed via radio, but that can waste precious time between coordinate reception and coordinate mapping as well as inject an additional opportunity for error while data is converted from verbal transmission. Having inefficient 9-line protocols can increase the time between the request and patient retrieval.
By connecting to ATAK through goTenna Pro X, off-grid 9-line requests can be made directly in the app, initiating a streamlined process of the medical evaluation and extraction of a critically injured operative. In scenarios when an injured team member may not be capable of verbally relaying coordinates, 9-line requests for CAS, MEDEVAC, and CASEVAC can still be relayed through ATAK's position locator, making patient rescue and medical treatment possible.
Position location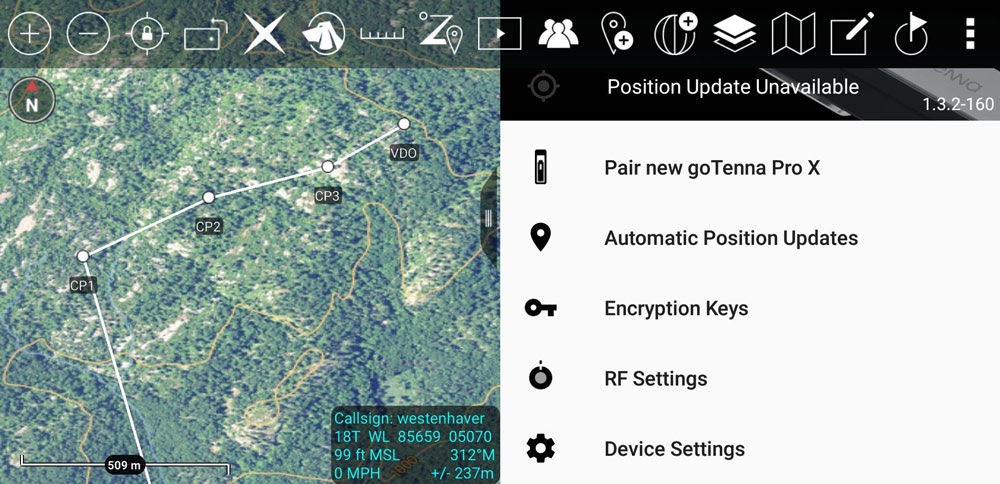 It is vital that all personnel have constant SA of one another throughout a mission's duration. Maintaining SA while deployed at the edge can be challenging when solely relying on physical maps and radios. A tactical team may have pre-marked coordinates and routes of where other personnel should be, but in reality, there's no way of actually establishing real-time SA when only looking at a physical map in one's hands. If the team is depending on radio communication for SA, it can still be difficult to locate and track personnel quickly and efficiently, especially in dynamic and dangerous environments.
Enabling GPS and position locating services is a goTenna Pro X hallmark when paired with off-the-grid ATAK utilization. ATAK's mapping engine has GPS functionality that not only precisely locates end user devices, but it also tracks their breadcrumb trails, providing near real-time tracking. ATAK's GPS functionality also lends itself to other mission critical capabilities, such as 9-line requests and related features such as the popular Bloodhound.
Create a route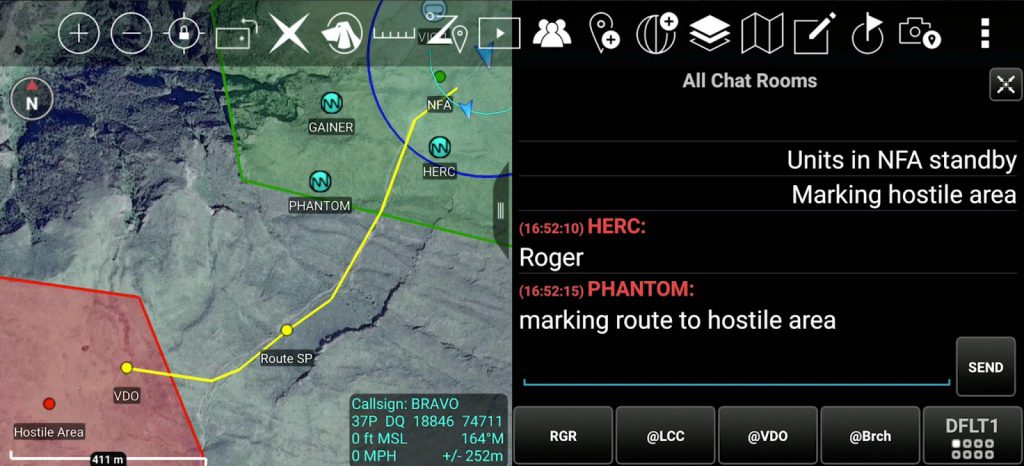 Military missions require rapid response times. When organizing a mission, creating routes using physical maps is not a time efficient practice, nor does it support SA in theater. Physical maps may not account for unforeseen hazards that may obstruct routes, which can waste team members' time if they have to re-route paths to destinations. This can leave personnel vulnerable to evolving threats and threaten the success of the mission.
With ATAK and goTenna Pro X, users can input start and endpoint coordinates, which the app will then use to automatically map out routes and directions. If missions call for custom routing, users have the option to manually construct routes. Included in ATAK's mapping engine is the functionality to direct and alert team members to trusted paths, drawn with up to eight waypoints. And if unforeseen hazards or obstacles arise in theater, ATAK can immediately map a new route on the fly, wasting no time and seamlessly continuing mission efforts. If more robust customer route options are needed, they are supported through the distribution of mission packs.
Check out the full goTenna Pro X + ATAK Plugin tutorial below:
To learn more about the importance of remote situational awareness for special operations forces, click HERE.