10 tips for extending mesh networking range using ground-based devices
In a previous article on The Last Mile, we looked at how elevating a goTenna Pro X mobile mesh networking device could drastically increase the range of the signal. We then looked at some of the different ways in which mobile mesh networking devices could be taken to incredible heights by attaching them to aerial vehicles and platforms like planes, helicopters, unmanned aerial vehicles (UAVs), and aerostats.

While connecting a mobile mesh networking node to an aerial asset is an incredible way to extend its range for miles and miles, not every first responder, warfighter, or tactical operator has access to aerial assets all of the time. But that doesn't mean they can't benefit from the communications and situational awareness capabilities of ATAK and the goTenna App – even off the grid.

While tactical operators may not have a drone to attach a mobile mesh networking device to, they may have a fire tower. Or a building. Or a tree. Or a really long stick. With a low-weight solution like the goTenna Pro X, which weighs in at under three ounces, all of these solutions are within the realm of possibility.

In fact, the goTenna team and some of their customers have managed to elevate their devices in a number of unique, creative, and interesting ways during testing and use in the field. Here are ten useful tips for getting a mobile mesh networking node up off the ground, even when aerial assets aren't available: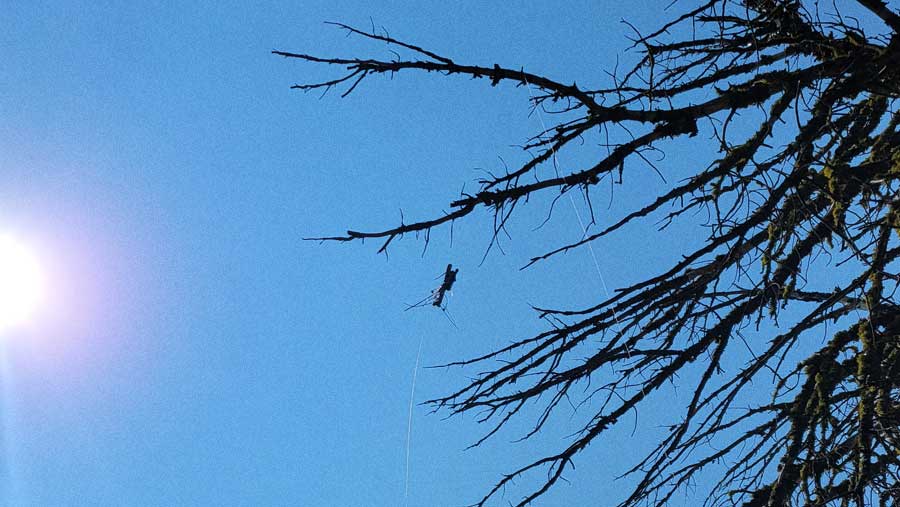 Tip one – There IS such a thing as too high
It may seem counterintuitive to say that placing a mobile mesh networking node too high can cause connectivity problems. After all, we were just suggesting that you attach them to airplanes. However, when placing a mobile mesh networking node into a tree, be sure to stop short of putting it up into the canopy. The foliage of the tree, or the larger forest canopy can block line of sight communications and actually result in a smaller coverage area.

Tip two – Materials matter
When tossing a mobile mesh networking device into the branches of a tree, the materials you use can make all of the difference when it comes to getting that device back. While 550 cord is the cord of preference for many tactical operators, it has a terrible tendency of getting stuck to branches and bark. Nylon cords can be the better solution for these situations.

Something similar can be said for the weights used as counterbalances. While the preferred weights – fishing sinkers – can often tangle around trees, the bean bags that come in arborist kits don't, making them a much more effective alternative.

Tip three – Newer windows can't be trusted
Did you know that some new construction buildings utilize a radio frequency blocking film on their windows? This film may be transparent, but it will create problems if tactical operators attempt to place their mobile mesh networking devices on the inside and use them outside.

Tip four – Radio orientation matters
The construction of many mobile mesh networking devices – including the goTenna Pro X – results in their polarity being oriented to the same direction they're mounted. If a goTenna Pro X is going to have maximum range from the top of a building, a tree, or a fire tower, then it should be mounted with the antenna facing up or down – never to the side.

Tip five – Plan ahead before the sun sets
Everything is different at night. When the sun goes down, it becomes harder to put things into trees, and harder to find materials to build field-expedient stands. To make operations at night easier, it's important to have all materials acquired before the sun goes down. Also, all equipment necessary for throw lines should be staged, ordered and wound in such a way to make the process easy, even in low light scenarios.

Tip six – Pack in, pack out
Any mobile mesh networking devices that are placed up in trees, or duct taped to a building, should be easy to retrieve so it can leave with the tactical operators it came with. One of the most common reasons why they don't make the return trip is people forget where they placed them. For this reason, be sure to mark the location of the device with a pin on your map. This way, you can retrieve the device instead of having to replace it.

Tip seven – Every foot matters
Getting a mobile mesh networking device to a high elevation doesn't always have to be hard work, or require tall objects. Sometimes, the terrain can do much of the heavy lifting. Every foot of elevation above the ground that you add to the device results in an exponential increase in its range. This means hills and mountains can play a significant role in increasing the range of a mobile mesh networking device.

When entering a new area of operations, be sure to identify the tallest spots or use the tools built into ATAK to conduct a line of sight audit. This can help you identify high points in the geography and better place your mobile mesh networking devices.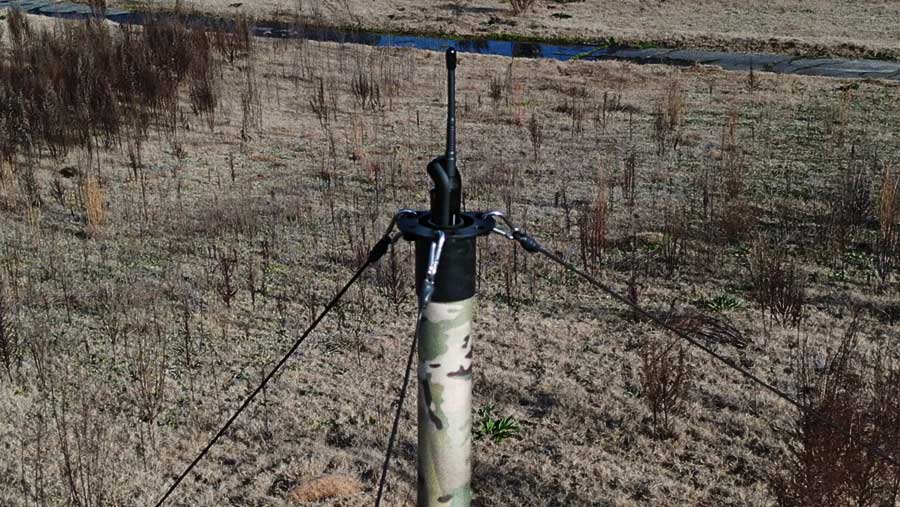 Tip eight – Use what's on hand
While a strategically-placed fire tower or giant sequoia is certainly helpful, they're not always available for tactical operators. But that doesn't mean a mobile mesh networking device can't be taken to new heights. Using materials that may already be on hand – such as painter's poles, camera tripods, or other tall devices – can be a viable alternative in a pinch.

Don't have a painter's pole? What about your truck, emergency vehicle, or military vehicle? By placing mobile mesh networking devices on their highest points, tactical operators can increase their elevation with the side benefit of making them mobile. Also, putting the device outside of the vehicle – even when you're inside of it – eliminates the chance of the inside of the vehicle acting as a Faraday Cage and limiting the device's range.

Tip nine – Connect for connectivity
Today's modern mobile mesh networking devices – such as the goTenna Pro X – utilize standard SMA connections, which makes it possible to connect them to larger antennas. Utilizing this SMA connection to connect the mobile mesh networking device to a vehicle's antenna can increase both its gain and its range.

Tip ten – Plan to not know
Even the missions with the best preparation and planning don't always go as planned. It's almost impossible to account for all possibilities in the field – especially in disaster response, battlefield, and natural disaster scenarios. In these instances, it's best to plan ahead and over-deploy resources with the understanding that the scenario may change, operations may shift, and locations may be in flux.

For example, instead of placing a mobile mesh networking device on the balcony of one side of a building, place one on all four sides of a building. Instead of just putting one in a tree to the north, put another in a tree to the south. It's better to over-deploy a low-cost solution like a mobile mesh networking device than find out that the operation has taken tactical operators out of range, and they're now without vital communications or situational awareness capabilities.

To learn more about how mobile mesh networking devices can enable mission-critical communications for military personnel and tactical operators click HERE to watch the Webinar, "Testing goTenna Pro X Mesh Networks in a Dense Forest."