The top five articles of 2022 illustrate a year of change across the public sector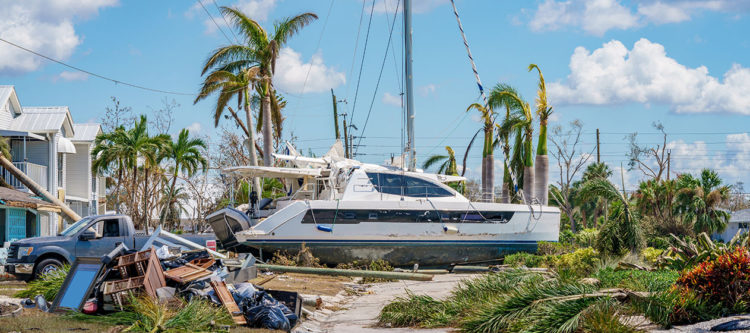 As the calendar year comes to a close, it's only natural to look back and discuss some of the major trends and stories that defined and shaped our experiences over the previous twelve months. Reflecting back, it's safe to say that 2022 was a year of transition and change in the public sector.
For first responders and emergency personnel, 2022 marked a shift in focus away from the COVID pandemic and towards high-profile natural disasters and emergency response situations – including the record wildfires across Europe, and destructive storms, like Hurricane Ian. This transition resulted in a new need for resilient, assured communications and situational awareness solutions that can keep emergency personnel connected even in the most austere conditions.
In the military, 2022 saw the continued shift towards preparing for and facing near-peer adversaries. After decades of asymmetrical warfare during the War on Terror, coalition militaries were faced with the reality of having to ramp up defenses and weapons systems against increasingly capable, pacing threats. This need was validated by the invasion of Ukraine by Russia and the increasingly threatening actions of China.
It's clear that 2022 was a year of transition and change across the public sector, with military, law enforcement, and emergency response organizations all having to face new threats and challenges.
This need to prepare for a new, superpowered threat created new requirements and a need for new solutions for coalition partners – including a need for resilient comms that can operate even when traditional communications solutions are denied by adversaries.
Finally, 2022 saw law enforcement organizations paradoxically looking to new technologies to increase their capabilities while also having to counter new technologies that are being used maliciously by criminals. Federal law enforcement organizations increasingly turned to IoT sensors and network-enabled devices to expand their reach, increase their effectiveness, and more effectively patrol large geographic areas. However, they also found themselves having to counter the malicious use of technologies like unmanned aerial vehicles (UAV) that were being leveraged by criminals.
It's clear that 2022 was a year of transition and change across the public sector, with military, law enforcement, and emergency response organizations all having to face new threats and challenges. Consistent across the entire public sector was a need for reliable, assured comms and situational awareness to help keep tactical operators connected and safe.
These trends can all be seen in some of the most popular articles that we featured on The Last Mile in 2022. Here are five of the most-read articles that appeared on the site this year:
Five "must have" tools for more connected firefighting
As the effects of climate change intensify and our country continues to experience increasingly destructive wildfires, firefighters are turning to new technologies to stay connected and coordinated. Here are five exciting solutions and technologies that are available today and that can increase communication and situational awareness for firefighters in the field.
The exciting technologies revolutionizing firefighting in 2022
Each year, our nation's wildfire problem gets increasingly worse – with five of the most destructive years for wildfires falling within the past decade and a half. The Biden Administration is working hard to improve firefighter retention by making the job safer and more rewarding. And to help protect our firefighters in the heat of battle, they're turning to new technologies. Here's a look at three of the most exciting firefighting advancements for 2022 and beyond.
Five reasons why mobile mesh is an essential military communications tool
Every platform, weapons system, and new solution being acquired for today's modern warfighter by the DoD is network-enabled and requires connectivity. Here are five reasons why mobile mesh networking is an essential military communications tool in this era of "connected everything" courtesy of goTenna Pro's Luke Stewart.
Three emerging off-the-shelf technologies that impact the modern battlefield
There has been a decade-long push for the U.S. military to eschew some purpose-built military technology solutions for their cheaper, more rapidly-adopted COTS competition. In this article on The Last Mile, U.S. Army instructor, Christopher Rance, shares three COTS communications solutions that are readily available and could make a difference on the battlefield.
 Malicious drones – the UAS threat facing law enforcement and military
Whether they're being operated maliciously, or by a negligent or careless user, the increased use of UAV has also resulted in a new challenge for law enforcement and military organizations. In this article on The Last Mile, Matthew Semovoski of D-Fend Solutions explains how even commercially-available drones can create public safety or national security risks and why they're such a difficult problem for our government.
SIXTH BONUS ARTICLE:
Key takeaways from scaling a mesh network in urban environments
Mobile mesh networks are an exceptional tool for extending communications and situational awareness capabilities to geographically isolated places where terrestrial networks are nonexistent or denied. But how many users can a mobile mesh network support? goTenna and Syzygy Integration worked with a federal law enforcement organization to put it to the test. Here's what they found.