Tech Spotlight Series: Juggernaut.Case keeps the mission going with ruggedized mobile gear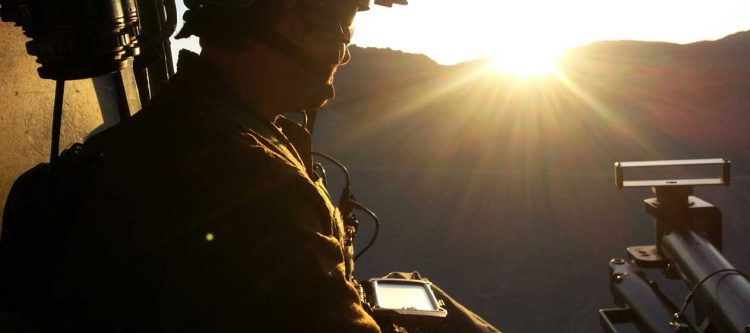 Dismounted warfighters and first responders carry all of the communications and situational awareness tools they need to coordinate activities with their teammates and superiors, request for assistance when in trouble, and maintain knowledge of what's happening in their area of operations and location. 
As communications technology becomes more and more network and IT-enabled, we've increasingly seen warfighters, wildland firefighters, and tactical law enforcement personnel deployed with smart devices, laptops, and other electronics. Unfortunately, many of these devices are poorly suited to the austere conditions awaiting them in the field. 
Users of devices for communications and navigation are often carrying heavy loads, moving fast, and overcoming physical challenges exposing their tech gear to wear-and-tear that would render most devices inoperable in short order. If communications and situational awareness are to be ensured, gear must be able to withstand any off-grid environment.
Juggernaut.Case offers a full product line of cases, mounts, and cables that address the need to protect essential communications tools and devices from austere environments. The company produces ruggedized cases and connections that allow the user access to their technology without compromising safety. And, their focus on resiliency at every point of connection is producing increased reliability for the user in tough environments.
The Last Mile recently sat down with Chris Stalzer of Juggernaut.Case to learn more about how their products are ensuring reliability downrange and off the grid.
Here is what Chris had to say:
The Last Mile (TLM): Can you tell our readers a little bit more about Juggernaut.Case? How did the company get its start?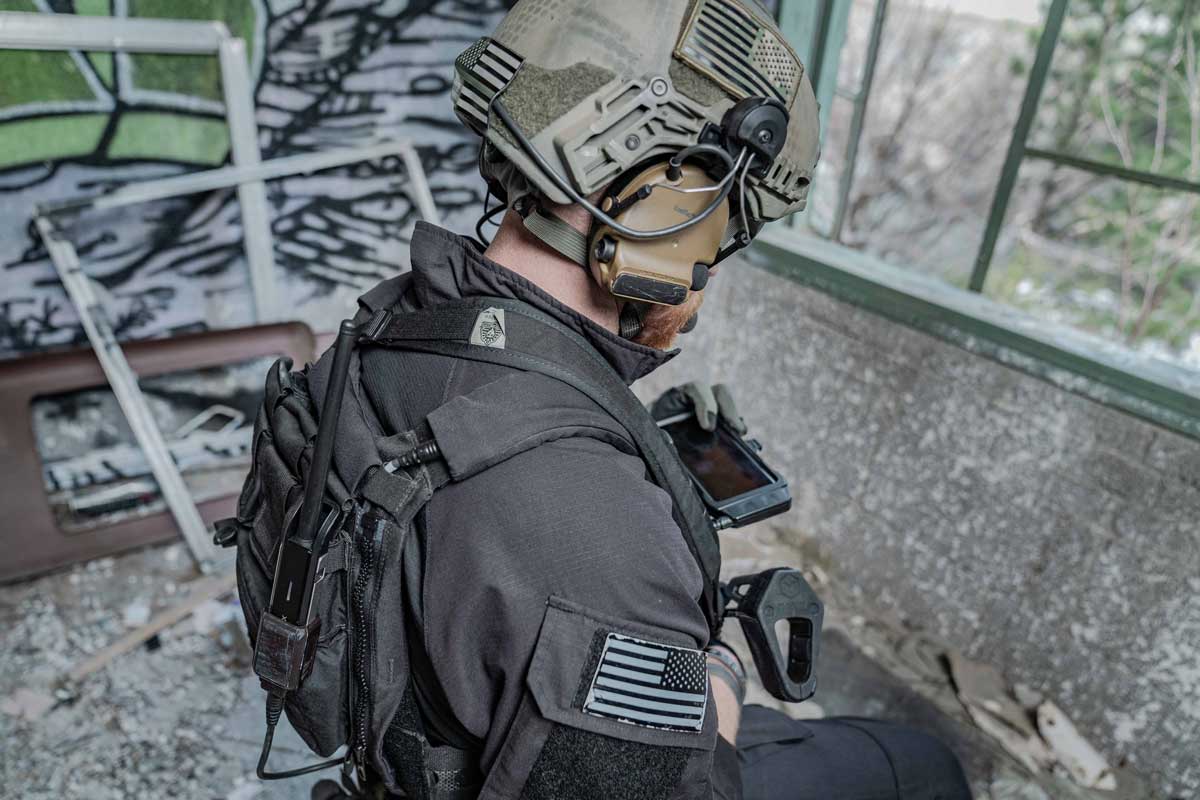 Chris Stalzer:  Juggernaut was started in April 2000 by three partners as an industrial design and mechanical engineering consultancy. In 2010 we started designing and manufacturing Juggernaut.Case products for Nett Warrior, and subsequently ATAK/iTAK/APASS/KILSWITCH.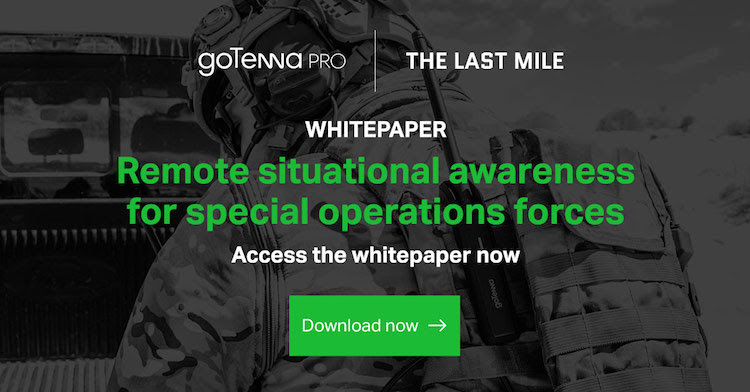 TLM: What are your most popular products and equipment to date?
Chris Stalzer:  With more than 75,000 cases fielded worldwide, our most popular products have been the new SLEEV™ case with an Armor.Mount for tactical operations. Just recently, our new lightweight IMPCT™ case has gained significant momentum and is now the most popular product we offer.
TLM: How have you seen mobile technology needs — and your product offering — evolve for military and civilian government agencies over time?
Chris Stalzer:  Ever since mobile Android and iOS devices gained enough computing and graphics power to run military-grade mapping and situational awareness applications, our products — which ruggedize commercial-off-the-shelf (COTS) devices — became a necessity to employ these devices downrange.
TLM: What are the most important design features that your customers look for today?
Chris Stalzer:  Our customers are always looking for the best protection and mounting capabilities for their devices in the smallest form-factor possible. They also want access to all of the devices' features without any interference from the case or mount.
TLM:  We recently heard about the launch of a new tethered cable solution, designed specifically for goTenna Pro and Pro X devices. Can you tell us a bit more about how this offering came to be and what's included?
Chris Stalzer:  Several goTenna Pro users were requesting an alternative to the typical Bluetooth LE connection used to pair Pro and Pro X with end-user devices. The team at goTenna reached out to us for a custom solution based on our experience in the industry — eventually, we landed on a ruggedized cable solution that did not require any modifications to the Pro or Pro X radios. 
The full package — recently released as the goTenna Pro Tether Cable Kit — includes everything an operator would need to mount, pair, and charge a goTenna Pro radio device and smartphone simultaneously on-the-move. The Kit secures the phone in an IMPCT™ or SLEEV™ Case and a standard Armor.Mount or the new Inductive-Charge Armor.Mount. A custom-fit 5V USB tether cable connects the case/device to the goTenna radio. Everything is powered by a lightweight, ruggedized 10,000mAH Dark Energy Poseidon Power Pack. Depending on the operator's pack, there is also an option to include a Mystery Ranch PALS Panel across the chest to employ the Armor.Mount. 
TLM:  When is a tethered goTenna Pro-mobile device connection preferable over Bluetooth?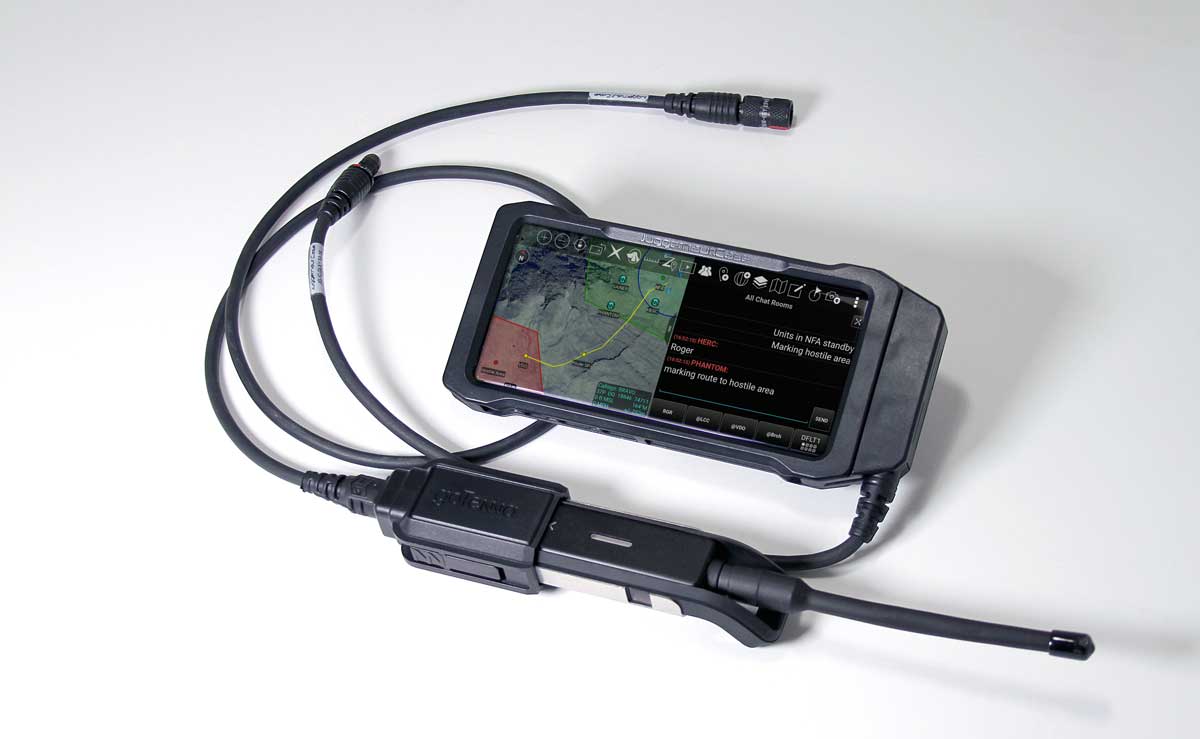 Chris Stalzer:  Many operational scenarios require the devices to be in a non-transmit mode for signature reduction and require a cabled connection rather than Bluetooth. The other advantage is that the goTenna Pro Tether Cable provides 5V USB power to the goTenna Pro or Pro X device, therefore extending the radio's runtime when connected to the smart device that is charged inductively within the Armor.Mount. 
Another advantage is when the goTenna Pro or Pro X device is used as a remote relay, connected to a long-duration solar power source; the goTenna Pro Tether Cable provides an IP67 connection to the radio for better ruggedization in the field.
TLM:  What have you heard from end-users who have tested the goTenna Pro Tether Cable Kit so far? How has it impacted performance in the field? 
Chris Stalzer:  End-users testing the product like the simplicity of the USB tethered connections and the fact that the device can trickle-charge their smartphone and the goTenna Pro or Pro X device at the same time — for up to 18 hours of operation. 
Some of our end users have also tested the power-only connection to relay scenarios in remote areas or on aircraft where vibration would have required a non-ruggedized cable to be taped or attached to the radio. 
By providing a sealed cabled connection, we've opened the door to many users who could not connect to goTenna Pro radio devices via Bluetooth or needed longer mission duration than the standard configuration. 
TLM: The goTenna Pro Tether Cable Kit was designed with Android USB connectivity in mind, are there plans for iOS?  
Chris Stalzer: Currently, Juggernaut.Case provides only USB Micro-B and USB-C connectivity to our Android cases, but there are plans in place for MFI-certified Lightning connector compatibility with our QD and IMPCT™ Cables. This will provide USB connectivity for iPhones and iPads as well.
TLM: After 25 years in the industry yourself, do you have any predictions for what's coming next? How will the adoption of ruggedized mobile tech and equipment continue to grow? 
Chris Stalzer: I'm very impressed with the capability and performance of the latest smart devices and the range of applications to assist in the many different types of missions our warfighters and responders are dealing with currently and in the future. 3D Mapping, Situational Awareness, Full-Motion Video, Aviation/Maritime CONOPS and BodyCam applications are the wave of the future for these devices. Maintaining off-grid connectivity between these users with the goTenna Pro devices is critical for these applications to be effective, especially when SWAP3 is a factor. 
To learn more about Juggernaut.Case and receive the latest product updates, visit their blog, Instagram, and Facebook pages.